Daw Aung San Suu Kyi Visits AU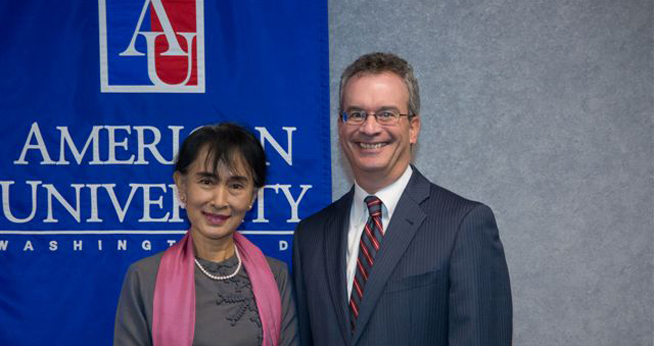 Photo by Jeff Watts.
Dean James Goldgeier met Burmese politician and chairperson of the National League for Democracy Daw Aung San Suu Kyi Sept. 20 when she visited AU to address members of the Burmese community. One of the world's most prominent political prisoners, she was under house arrest in Burma for almost 15 of the 21 years from 1989 until her release in 2010. She was in Washington, DC to accept the United States' Congressional Gold Medal on Sept. 19, which added to her long and distinguished list of honors, including the Nobel Peace Prize in 1991.
---
MORE HEADLINES - 9/25/2012
Alan Fleischmann Appointed to Atlantic Council's Board of Directors
Celebrating Joe Clapper
New Faculty Added to SIS Roster
New Degree Program Brings Social Enterprise to SIS
Ambassador Akbar Ahmed Debuts The Thistle and the Drone
Dean Jackson Receives Award for The Conduct of Inquiry
IMI Staff Evaluates Program in Ukraine

---
Alan Fleischmann Appointed to Atlantic Council's Board of Directors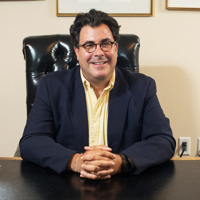 Alan H. Fleischmann, SIS/SPA/BA/BS '87
Alan H. Fleischmann, SIS/SPA/BA/BS '87, chair of the SIS Dean's Council, has been named to the Board of Directors of the Atlantic Council, an organization that promotes transatlantic cooperation and international security.
"Alan Fleischmann has been a strong supporter not just of SIS, but of AU more broadly, and we are all proud that he has been offered this exciting opportunity to work alongside other luminaries, such as former Secretary of State Henry Kissinger, former Ambassador to the United Nations Thomas R. Pickering and former Rep. Ellen Tauscher (D-CA)," said Dean James Goldgeier. "The Atlantic Council has made a very smart choice."
In addition to his duties as chair of the Dean's Council, Fleischmann is a principal and managing board member of Albright Stonebridge Group and co-founder and managing director of ImagineNations Group. In 2011, the Obama administration appointed him a member of the Industry Trade Advisory Commission and a member of the White House Commission on Presidential scholars. Previously he served as the chief of staff to Maryland Lt. Governor Kathleen Kennedy Townsend and as a staff director of the Committee on Foreign Affairs of the U.S. Congress.
"I'm enthusiastic about this board appointment, and I have been observing the Atlantic Council's work since my SIS college days," said Fleischmann. "SIS's focused deliberate exposure and training across all the three sectors (civil society, private and public sectors) and the emerging intersections between them makes SIS alums uniquely qualified to work with such extraordinary institutions as the Atlantic Council, and their entrepreneurial, innovative initiatives that cross all three dynamic sectors."
American University has honored Fleischmann extensively: He was the SIS 2008 Alumnus of the Year and was awarded the University's 2012's Cyrus A. Ansary Medal for his extraordinary leadership in service, selfless efforts to nurture young leaders and commitment to the global community.
---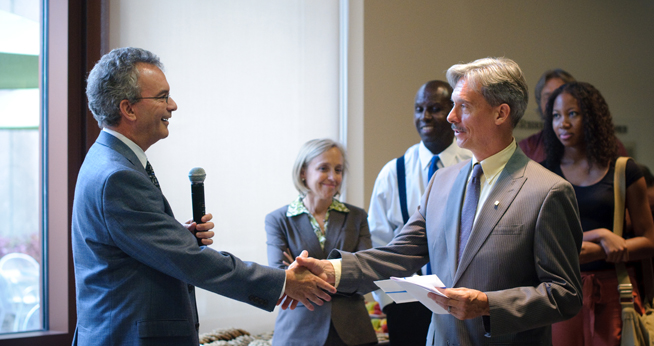 Joe Clapper, former assistant dean of facilities, left SIS in August after 20 years of service. SIS Dean James Goldgeier
thanked Clapper for his work at a going-away party in September.
---
New Faculty Added to SIS Roster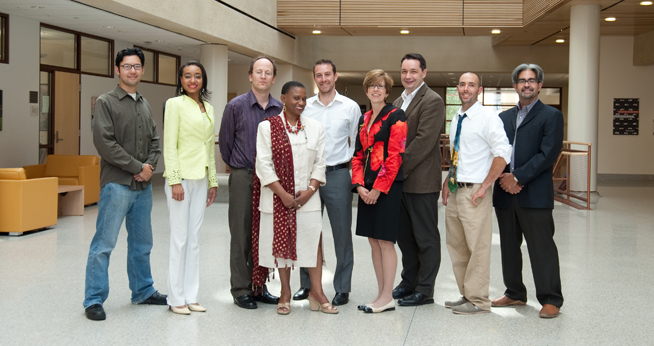 From left: Professors Easten Law, Asiya Daud, Adam Diamond, Yves-Renée Jennings, Michael Schroeder, Rose Shinko,
Holger Schmidt, Jeff Bachman, and Eric Abitbol.
New fall 2012 faculty come to SIS with specialties ranging from human geography to world politics to cross-cultural communication. "We're thrilled to welcome our new faculty to SIS," said Dean James Goldgeier. "They are accomplished teachers and scholars, and we are delighted that they have joined our community."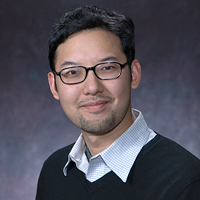 Easten Law comes to SIS from AU's Washington Semester Program and focuses on intercultural communication and the interaction of religions in China. Law received two B.A. degrees from Wheaton College (Ill.), in communication and spiritual formation, and an M.A. from Wheaton in intercultural studies.
Asiya Daud received her Ph.D. from Claremont Graduate University (Calif.) and will teach The World of Islam, The Arab Spring and its Aftermath, and Advanced Topics in International Relations: Dialogue: Approaches and Applications in fall 2012.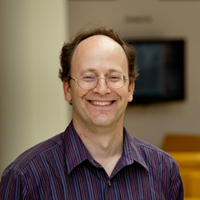 Adam Diamond holds a Ph.D. in geography from Rutgers University, an M.A. in urban planning from the University of California Los Angeles and a B.A. in political science from Reed College. He previously worked at the U.S. Department of Agriculture, where he focused on food system development. In the fall, he will teach Human Geography and the first-year seminar Agriculture, Sustainability and Civilization.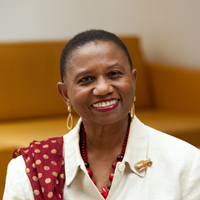 Yves-Renée Jennings will teach Alternatives to Violence, Economics of Violence and Peace and Introduction to Peace and Conflict Resolution. Previously, Jennings worked for 20 years at the World Bank. She received her Ph.D. from the George Mason University (Va.).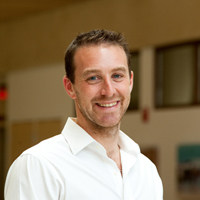 Michael Schroeder focuses on the peace operations, electoral assistance and the system of the United Nations. He holds a Ph.D. from The George Washington University in political science and an M.A. and a B.A. from the University of British Columbia in political science and international relations, respectively.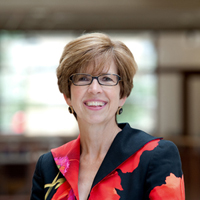 Rose Shinko received her Ph.D. in international relations theory and political theory from the University of Connecticut. She focuses on international relations theory and will teach World Politics in fall 2012. She has also been named Undergraduate Program Director.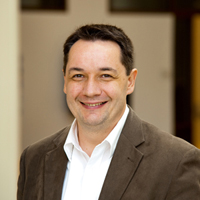 Holger Schmidt taught at The George Washington University and the College of William and Mary. He will instruct Introduction to International Relations Research and Introduction to Global Security. Schmidt holds a Ph.D. from Columbia University, an M.A. from Johns Hopkins University and a B.A. from Johann Wolfgang Goethe University in Germany.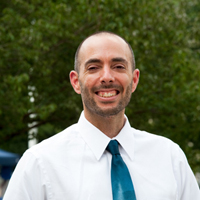 Jeff Bachman concentrates his research on human rights and humanitarian law and has worked with Amnesty International as part of the Government Relations for Europe/Eurasia program. He anticipates receiving his Ph.D. in the spring of 2013 from Northeastern University (Mass.) in law and public policy.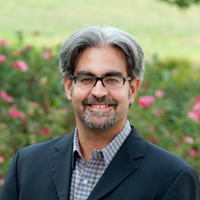 Eric Abitbol studies globalization and development and will teach Peace Paradigms, International Environmental Politics and Environment, Conflict and Peace. Abitbol's thesis is titled "Hydropolitical Peacebuilding among Israeli Transboundary Water Practitioners: Transforming the Israel-Palestinian Conflict." He holds an M.S. from the London School of Economics and a B.A. from McGill University in Canada.
Find the complete list of SIS faculty profiles here.
---
New Degree Program Brings Social Enterprise to SIS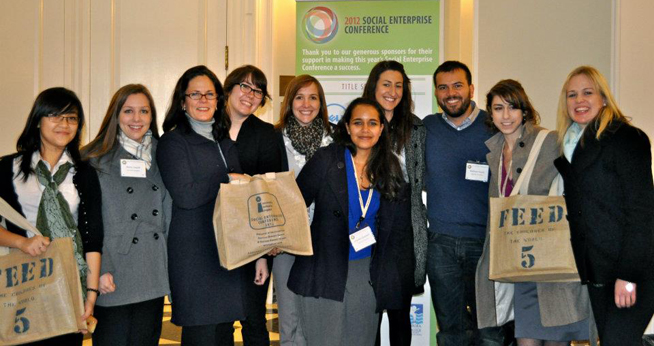 Members of the inaugural Social Enterprise cohort at Harvard University for the Social Enterprise Conference in 2012.
Last year, SIS launched a new master's degree program in social enterprise, one of the first of its kind offered by an international relations school. Designed to train students interested in launching or working in social ventures, the program began in August 2011 with an enthusiastic group of 12 students.
Program Director Robert Tomasko, former business consultant and author of Bigger Isn't Always Better and SIS faculty member Joseph Eldridge work with students on an 82-question self-assessment of the students' interests and work and educational histories to create a personalized evaluation of career objectives.
The strength of the innovative program comes from work with its professors and external practitioners, said Tomasko. The two-year program starts with "The Plunge," in which first-semester students are paired to work with a DC-based nonprofit or social enterprise, such as CentroNía, a multicultural academic program; City Blossoms, a child-geared gardening nonprofit and housing provider for low-income families Mi Casa. The students learn about local organizations, create networks and work closely with one another. The local entrepreneurs guide the students serving as guest lecturers, adjunct professors, mentors and resources for them.
"We want the program to be rooted in the real world. This is the beginning of our students' professional network. When you graduate, you're not going out into the world alone," Tomasko said.
Social Enterprise students come from the United States, Colombia, the Democratic Republic of the Congo, Israel, Puerto Rico and Vietnam. They have been employed in law, business, media and the U.S. government and served in the U.S. Peace Corps. They hold bachelor's and advanced degrees in an array of areas, including political science, anthropology, journalism, business, international relations and international development.
"The Social Enterprise Program teaches developing practitioners the real-world skills to lead or even create social enterprise ventures when they graduate," said Tamar Gutner, associate dean for faculty affairs and graduate education. "From their immediate involvement with entrepreneurs in 'The Plunge' phase, to internships and workshops in the community later in the degree program, these students exemplify the service aspect of SIS."
Requirements within the Social Enterprise Program include six required courses, a personalized concentration, weekend skills institutes focusing on a particular subject and internship and practicum requirements, with the option to take related courses in other AU schools.
Outside of the classroom, the program is largely student-driven. Last year's inaugural cohort established a speaker series, created the Social Enterprise Association to plan student-directed events for the program and filmed and produced its own promotional video. In November and December, the students will hold a daylong workshop focusing on design and innovation for DC social enterprise practitioners and SIS alumni.
"How do you teach students initiative?" said Tomasko. "You don't. You just say, 'Go for it. And then get out of their way.' "
Watch the Social Enterprise Video here.
---
Ambassador Akbar Ahmed Debuts The Thistle and the Drone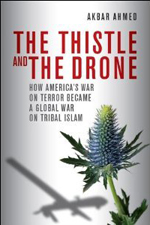 Ambassador Akbar Ahmed, SIS professor and Ibn Khaldun Chair of Islamic Studies, will debut The Thistle and the Drone: How America's War on Terror Became a Global War on Tribal Islam, with October lectures and book signing events in Washington, DC, and Cambridge, England.
The book reveals that these campaigns have exacerbated the already-broken relationship between central governments and the tribal societies on their periphery, according to the Brookings Institution Press catalog.
"I hope that this book will encourage people to rethink the War on Terror paradigm, particularly policy makers, scholars and the media," said Ahmed. "The focus of the book is the longstanding conflict between center and periphery, which seems to have come to a boil following 9/11. We have presented dozens of case studies to show that there is an alternative way to deal with tribal societies."
---
Dean Jackson Receives Award for The Conduct of Inquiry in International Relations: Philosophy of Science and its Implications for the Study of World Politics.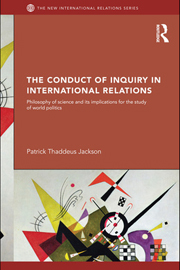 Associate Dean for Undergraduate Education Patrick Thaddeus Jackson received the Yale H. Ferguson Award from the International Studies Association for his recent publication, The Conduct of Inquiry in International Relations: Philosophy of Science and its Implications for the Study of World Politics.
The work was recognized as the book that most advances the vibrancy of international studies as a pluralist discipline.
Jackson shared the prize with Professor Michael N. Barnett of George Washington University's Elliot School of International Affairs and Political Science for his book, The Empire of Humanity: A History of Humanitarianism.
---
IMI Staff Evaluates Program in Ukraine
Yelena Osipova, SIS/Ph.D., speaks to children participating in the Cross Cultures Project Association's Open Fun Football Schools.
In September, three members of the SIS Intercultural Management Institute (IMI) journeyed to Ukraine's Crimean peninsula to evaluate a Danish conflict-prevention and society-building program.
Research and Publications Coordinator Justin Papka, Program Associate Walid Hammam, SIS/MA '12, and Ph.D. student Yelena Osipova work with Cross Cultures Project Association's Open Fun Football Schools. The Danish program encourages positive changes in multiethnic and multicultural dialogue, cross-community interactions and peace-building through childhood sports.
During this first trip to the towns of Andreevka, Feodosiya, Kostochka and Gruvshevka in September, the staff engaged with youth, coaches, parents and local government officials. Yevgeniy Stolitenko, a local who is in charge of Grassroots Development at the Ukrainian Football Federation, also joined IMI field staff.
"The Cross Cultures Project wants this to be more than youth sports. They want it to mobilize local communities," Papka said. "Despite the country we go to, or cultural tensions we witness, local communities always seek an outlet to feel normal and get away from economic, cultural and ethnic problems."
The benefits of the program include reaching out to underprivileged sections of society, including girls, minorities and orphans, as well as improving cross-cultural understanding, said Hammam.
"Parents, children and teachers came out en masse, seeming genuinely intrigued and excited. They're coming together as a community, finding happiness in the face of so much strife," said Osipova.
IMI will return to Ukraine in October to complete the program evaluation, which determines the effectiveness of the initiative by using focus groups, surveys and interviews in the four communities.
---
"An Incredibly Exciting Place to Be:" Alumna Welcomes Incoming Students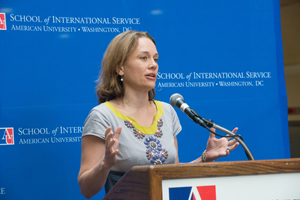 Julianne Smith, SIS/MA '95, and deputy national security advisor to the vice president, stressed the importance of getting an education inside and outside the classroom at the SIS opening ceremony on Aug. 24.
"It's important to be out there and building a network," Smith said. "You'll find that as you diversify your skill set, it'll pay dividends down the road."
Before joining the Obama/Biden administration in April 2012, Smith, a recipient of the Robert Bosch Foundation Fellowship, worked at the German Marshall Fund and the Center for Strategic and International Studies. She also served as a principal director of European and NATO Policy at the Pentagon.
Letters to the Editor
Dear Readers,
We were delighted with the warm response from the SIS community after the launch of our first newsletter Sept. 12, and we hope we will continue to hear from you - especially alumni - so we can establish a regular "Class Notes" feature from our graduates around the world.
Molly Brauer
Editor
Assistant Dean of Communications
siscomm@american.edu
Here are a few of the alumni comments we received in order of your graduating class:
Patrick Heininger, SIS/BS '64
From London:
Thank you for the newsletter. It brought to mind climbing Old Rag Mountain with Dean Griffiths around this time of year when I entered SIS in 1960. I hope to be able to attend the 50-year reunion of my class. [Click here for more information.]
I learned about SIS while waiting in an optometrist's office in Western Pennsylvania and reading a Kiplinger publication, which said that SIS had been established by the largest single grant ever to a university for a single purpose - $1 million from the Methodist Church. That would have been in 1958 or 1959 I guess. Forgive the mistakes if some of the facts are fanciful, but that's how I remembered it.
I thought it might be interesting to become a diplomat, so I applied to SIS, got a scholarship and came.
I haven't reported my movements to SIS previously but, for the record, my 45-year career has been mainly concerned with international service or business:
Fellowship to study international law at Goethe University, Frankfurt, after graduating from Georgetown Law School
International corporate and financial law at Debevoise Plimpton in New York
Teaching law at the University of Nairobi and advising the Government of Kenya on tax and foreign investment (Ford Foundation supported)
Lawyer at the World Bank in Washington-lending to developing countries and borrowing money in capital-exporting countries
Director/partner in Baring Brothers, where I continued to work on raising money for development banks as an investment banker
Environmental services work-first in corporate finance in the UK and then as a country/regional manager-in Indonesia, Thailand and Singapore
Helping start up UK-based businesses, many with international stakeholders, partners and customers
Still active in my "third career," I am now working with a company focused on Kosovo. It is good to be working again in a developing-country environment on major projects, which can assist Kosovo's economy and increase employment while benefiting Core Group.
I am very grateful to SIS for providing the foundation for my work and hope you will find it interesting that yet another graduate has gone on to fulfill SIS's promise in its early years.
Kind regards,
Patrick Heininger
Richard McCleery, SIS/BA '67
Since I entered AU in the fall of 1963, I guess that put me in the second class to graduate from AU - I am class of '67.
Certainly, the most memorable event of my freshman year was the assassination of JFK. While I no longer have the note book from Albert Mott's class the day that JFK was shot, I do recall he had gone off theme and was talking about the number of US presidents shot in office and the total he named was one more than I could sum up at the time - perhaps he had heard about the shooting on the news before entering class. But he did not announce the event, and only made that oblique reference, if indeed that was what he did. Further, I remember checking at the time.
In any event, I look forward to future editions of the SIS News.
Bruce Gregory, SIS/BA '67
Nice work on the first edition of SIS News.
Informative. Well written. Easy to read quickly online.
Congratulations to all concerned.
Linda Mendenhall, SIS/BA '81
After working as an attorney in international relations…I have been given a great position in the Department of Defense buying Apache & Chinook helicopters [among other duties].
Mark Richard Grace, SIS/BS '85
From Baghdad:
It is a good thing to reconnect. Thank you for putting me on the SIS News list! There were several items that jumped out at me, especially the story on the bee keeping and the story on the fellow doing micro-finance work in Nicaragua.
SIS people are an interesting bunch.
A status update from this SIS graduate is that I am working successfully on the upgrade of the business and finance accreditation efforts of Iraq's Colleges of Business and Administration. As the Director of an educational component to a $54 million dollar USAID project to improve the Iraqi banking and finance sector my directives are to assist Iraq's undergraduate business and finance faculty and institutions become globally competitive and accredited. Living in Baghdad is a challenge no doubt, but the work is fascinating and eye-opening.
Ulrich Hottelet, SIS/MA '94
From Berlin:
Great idea to put together a SIS newsletter! As an alumnus SIS/MA'94 I appreciate that you sent it to former students as well. As I read, SIS is still very active in many fields.
Dr. Rand Fandrich, SIS/BA '00
Congrats on a wonderful newsletter!
Alumni Mentoring Program at the Four-Year Mark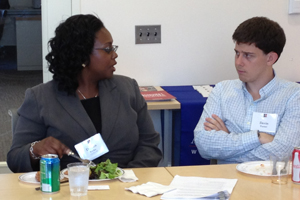 Dean James M. Goldgeier, Director of Development Morris Jackson and Assistant Vice President of Alumni Relations Raina Lenney welcomed students and alumni to a reception to mark the 2012-2013 SIS mentoring program Sept. 19.
Now in its fourth year, the program pairs 26 SIS seniors and alumni. They meet regularly to discuss the students' after-college plans, job-searching techniques and other topics.
"The mentors provide real-life experiences to their mentees, and that experience enhances and facilitates the students' entry into the work world," said Jackson.
While most mentors and mentees are based in D.C., participants living or studying abroad connect regularly through email and the video chat over Skype. Brooklyn Hamel, SIS/BA '12, studied abroad in Argentina in the fall of her senior year and held regular Skype conversations with her mentor.
"During our Skype sessions, we talked about specific topics and picked out central themes on what we could work on together," said Hamel. "We continued to communicate through email during the weeks that we didn't have a Skype date. I found the support from my mentor to be very helpful on a professional and personal level. It was nice to have her as a source of support while I was abroad and as I started to navigate the waters of life after college."
In the 2011-2012 year, half of the mentors were returning participants, some in their third year, and 100 percent of the participants said they would recommend the program to other alumni or interested students.
"It's a great opportunity not only for the benefit of the students, but the alumni feel meaningfully engaged too. They understand the need for something like the program, because it's pretty likely that someone helped them in a similar way," said Lenney.
Danica Starks, SIS/BA '99, who served as a mentor during the second year of the program and returned in 2012, remembers the assistance she received from the SIS faculty as a student.
"Being an African-American student, there were few of us at AU, and even fewer in SIS," Starks said. "It was nice to have somebody who affirms that you belong here. I had a lot of professors who took an interest in me or made the time for me. I felt that AU was a very nurturing environment, and now I can provide that for somebody else."
---
Getting to Know You: Molly Brauer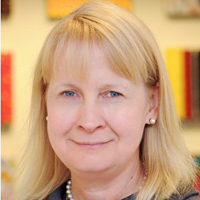 Job Duties: As assistant dean for communications and administration, I promote the image of SIS through our evolving website, new and old media, and publications. And I help to manage the facilities of the two SIS buildings. Everyone should be pleased to know that we are close to hiring a new senior manager of facilities for the building.
How long have you worked at SIS: About six weeks.
What would your colleagues be surprised to learn about you: That I have a B.F.A. in Painting from The Rhode Island School of Design.
What's the best part of working at SIS: My commute on what my great lion of an aunt called "the No. 11 bus - your own two feet" up Massachusetts Avenue.
What was your first job: When I was 11 years old my mother signed me on as a "mother's helper." I worked five days a week, and was paid 25 cents an hour to baby-sit, clean house and do laundry.
Where did you grow up: Evanston, Ill., near mighty Lake Michigan, just north of Chicago.
Family & where do you live: My family is far-flung and far afield, but my favorite is my darlin' daughter Nelly, who is 24, and lives in Ann Arbor, Mich., with my granddog Thunder. I live in McLean Gardens, a short walk from work.
Hobbies: I like to walk and hike, ice skate, do needlework, cook, garden, read and have fun with my film group.
What do you enjoy doing on the weekend: Going on hikes in the state and national parks, visiting museums, going to the theater and watching movies.
What are you reading these days: I'm in an Irish book club with Solas Nua, the local Irish Arts Society, so I've been reading a lot of Irish literature. My favorite new discoveries are "City of Bohane" by Kevin Barry, and "The Whereabouts of Eneas McNulty" by Sebastian Barry. We are currently reading "The Book of Evidence" by John Banville.
Favorite Book or Movie: Movie: "Zero for Conduct" by Jean Vigo. Authors (a three-way tie): Leo Tolstoy, Graham Green and Sebastian Barry.
Favorite D.C. hangout: The Luna Café in Dupont Circle for breakfast.
Favorite Food: Bacon, eggs and home fries.
What was your last vacation: It was a long walking trip in Ireland, where I visited Dublin, hiked up mountains, around fjords down the famine trail, through peat bogs and across the Burren in Connemara, the Aran Islands and Lisdoonvarna, and all in rain that felled mountain goats. It's where I discovered that "Guinness is good for you." I hope to return bearing a green passport.
---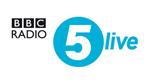 BBC Radio 5 interviewed Ibn Khaldun Chair of Islamic Studies Ambassador Akbar Ahmed on Sept. 13, who explained that unrest in Libya is related to its recent revolution.

Dean James Goldgeier's 2003 work, Power and Purpose (with Michael McFaul), was cited in The New York Times Sept. 22.

Dean James Goldgeier discussed the difficulties of American social equality assistance on Voice of America Sept. 21 in "USAID Democracy Programs Can Complicate International Relations."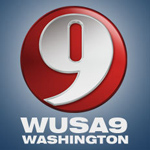 Professor Asiya Daud appeared on WUSA9, Washington, DC's local CBS affiliate on Sept. 14. She discussed the recent changes in Egyptian society.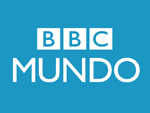 Ambassador Anthony Quainton, Diplomat-in-Residence and SIS professor told the BBC Mundo on Sept. 12 not to categorize Muslims or Islam by what happened in Cairo or Benghazi. On the same channel on Sept. 15, he discussed his diplomatic experience abroad and explained how security is tailored to each individual country based on specific threats and past history.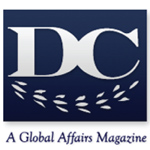 Adjunct Professor Steven Feldstein has been named one of the 99 most influential foreign policy leaders under the age of 33 by The Diplomatic Courier and Young Professionals in Foreign Policy.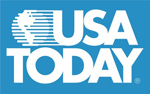 Professor Benjamin Jensen had a USA Today op-ed, "Fight the Taliban with Afghan Culture," Sept. 12.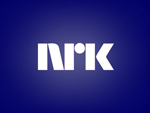 Professor Abdul Aziz Said discussed how conflicts within Islam contribute to the violence in Syria on NRK TV in Norway, Sept. 11.

Ambassador Akbar Ahmed explained the link between violence in Libya and depictions of the Prophet Mohammed, Sept. 12 on CNN. Ahmed also appeared on the public radio show, "The Takeaway with John Hockenberry," on the same day to discuss the bombing of the U.S. Embassy in Libya.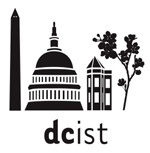 Professor Eve Bratman and SIS students were featured in a DCist story Sept. 13 about contributing honey to the DCist staff's DC Honey Ale batch, from a recipe popularized by the White House.
Professor Gordon Adams has become a regular columnist for Foreign Policy magazine. His first article, "Sequestering the Jury," appeared Sept. 14.
---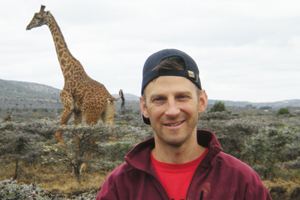 Professor Carl LeVan received the 2011 Frank Cass Prize for the best article by a young scholar from the journal Democratization for his article "Questioning Tocqueville in Africa: Continuity and Change in Civil Society During Nigeria's Democratization."
Professors Maria Green Cowles and Michelle Egan presented a paper, "The Evolution of the Transatlantic Partnership,"at the University of Edinburgh on Sept. 10-11.
Professor Paul Wapner led the workshop "Contemplative Environmental Studies: Pedagogy for Self and Planet" at the Lama Foundation in New Mexico July 1-7. Approximately 30 professors from various disciplines explored innovative ways to teach and research environmental challenges. Wapner also gave two talks at Smith College (Mass.) on Teaching Environmental Studies, July 31 and Aug. 1.
---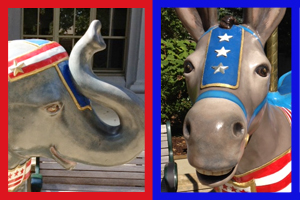 Save the Date! SIS will host an election returns night open house Tuesday, Nov. 6.
The Global Environmental Politics program will sponsor a day of events called "Politics, Pesticide … and Progress?" on Thursday, Sept. 27, at 12 p.m. in the SIS Abramson Family Founders Room, Vanishing of the Bees will be screened, followed by a panel discussion, "Breaking the Silence: A Half Century of Pesticide Injustice and Advocacy," from 2 p.m. - 3:30 p.m. At 5 p.m. in SIS Room 300, A Chemical Reaction will be shown. The day's events are free and open to the public.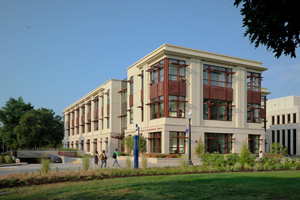 American University offers free parking in the SIS garage
and in the Nebraska Avenue lot after 5 p.m. on weekdays.
The SIS building is located at the intersection of Nebraska
and New Mexico Avenues, NW.
Students and alumni are encouraged to attend the free workshop "Introduction to Careers at the International Financial Institutions" on Thursday, Sept. 27, from 6 p.m. - 8 p.m. in the SIS Abramson Family Founders Room. Please RSVP by Sept. 26 to http://bit.ly/IFICareers/.
On Monday, Oct. 1, from 5:45 p.m. - 8 p.m. in the Abramson Family Founders Room, Professor Maina Singh will moderate a panel called "U.S./India relations: Convergence and Challenge." The event is free and open to the public.
Professor Judith Shapiro will launch her newest book, China's Environmental Challenges, on Tuesday, Oct. 2, in the SIS Abramson Family Founders Room at 4 p.m. The event is free and open to the public.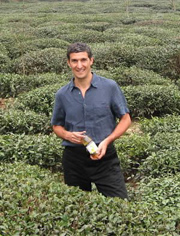 The Social Enterprise Program will honor Seth Goldman, CEO and co-founder of Honest Tea, with its inaugural Social Innovator of the Year Award on Thursday, Oct. 4, in the SIS Abramson Family Founders Room from 5:30 p.m. - 8 p.m. The event is by invitation only. If you are interested in attending, please contact km8158a@american.edu.
Ambassador S. Hossein Mousavian, associate research scholar at Princeton University's Woodrow Wilson School of Public and International Affairs, will speak on rebuilding U.S./Iran relations on Thursday, Oct. 4, from 4 p.m. - 6 p.m. in the Abramson Family Founders Room. The event is free and open to the public.
Also on Thursday, Oct. 4, polar explorer Thorleif Thorleifsson will discuss Arctic climate change in the Abramson Family Founders Room at 12 p.m. Norwegian snacks will be served. The event is free and open to the public.
On Sunday, Oct. 7, SIS will host the Nepali Women's Global Network's third annual conference, "Maheela Sashaktikara through Collaboration and Activism" from 9 a.m. - 7:30 p.m. To register, please email the organizers at NWGNconference2012@gmail.com.
Former CIA agent William D. Murray will speak on "The Role of Intelligence in Crafting U.S. Foreign Policy" on Tuesday, Oct. 9, from 3:30 p.m. - 5 p.m. in SIS Room 300. The event is free and open to the public.
Geetha Rao Gupta, deputy executive director for the United Nations Children's Fund (UNICEF), will deliver the keynote address at the 10th Annual Irene Tinker Lecture on Women and Development on Monday, Oct. 15, from 5:30 p.m. - 7 p.m. in the Mary Graydon Center, Room 200. The event is free and open to the public.
Cuban Missile Crisis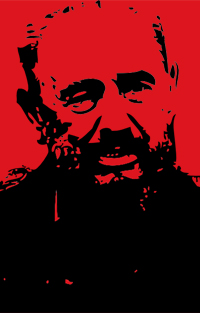 On Tuesday, Oct. 16, join James G. Blight, Centre for International Governance Innovation chair in foreign policy development at the Balsillie School of International Affairs, and the Department of History, University of Waterloo, in Waterloo, Ontario, Canada, and Janet Lang, a research professor at the Balsillie School of International Affairs, and the Department of History, University of Waterloo, in Waterloo, Ontario, Canada. They will speak on "The Armageddon Letters: Kennedy, Khrushchev, Castro in the Cuban Missile Crisis" in the Abramson Family Founders Room from 12 p.m. - 1:30 p.m. The event is free and open to the public.
David M. Barrett, professor of political science at Villanova University, and Max Holland, journalist, author and editor of Washington Decoded, an online publication, will discuss their book, Blind Over Cuba: The Photo Gap and the Missile Crisis (Foreign Relations and the Presidency) on Thursday, Oct. 18 in the Abramson Family Founders Room from 1 p.m. - 2 p.m. The talk is free and open to the public.
National Security Archive Research Fellow and SIS Adjunct Professor of Comparative and Regional Studies Svetlana Savranskaya will talk about "The Soviet Cuban Missile Crisis: Mikoyan, Castro, Kennedy, Khrushchev and the Missiles of November" from 5:30 p.m. - 7 p.m. on Monday, Oct. 22. The location will be announced; the event is free and open to the public.
Ronald Pruessen, professor of history at the University of Toronto, will deliver a book talk on Fifty Years of Revolution: Perspectives on Cuba, the United States, and the World on Wednesday, Oct. 24 in SIS 300 from 12:30 p.m. - 1:30 p.m. The presentation is free and open to the public.