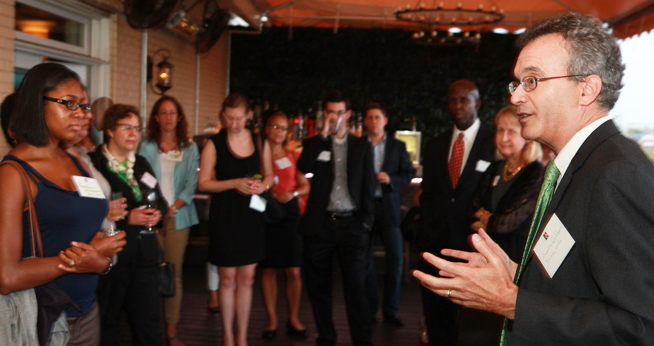 Dear SIS Community,

Welcome to the first issue of SIS News, a publication designed to inform alumni, faculty, staff and friends of the School of International Service about news, the achievements of members of the SIS community, alumni notes and coming events. Read more
---
MORE HEADLINES - 9/12/2012
Jackson Named Top-20 International Relations Scholar
SIS to Commemorate Cuban Missile Crisis
Gutner, Jackson Appointed to Focus on Undergraduate & Graduate Programs
Alumni Weekend Celebrates Soaring Eagles 50th Anniversary
SIS Prof's Honey-Do List: Master Beekeeping

---
This fall, as we celebrate our traditional alumni weekend, Oct. 19-21, we will welcome back to campus our Golden Eagles, who entered SIS in the inaugural class of 1962 and are now celebrating their 50th reunion year.
Looking back on the changes in our School, our country and the world over the last half century, we will also focus on a pivotal event in our modern history this fall - the Cuban Missile Crisis. Throughout the year, SIS will use the anniversary as a "teachable moment" through specially-offered undergraduate and graduate classes. The school will also hold special public events during the "Thirteen Days" (Oct. 16-28) to reflect on the lessons learned. Look for updates in future issues.
This first edition of SIS News celebrates some of our faculty's achievements, and introduces two new associate deans who will serve our students through evolving graduate and undergraduate curricula. We are welcoming over 550 undergraduate and 350 graduate students this fall as we strive to offer the best undergraduate liberal arts education in international affairs and increasingly professional M.A. programs.
SIS and AU have always been known for the edge we give our students through internships. Now, through the generosity and vision of our donors, a new SIS Internship Fund enables some of our best and brightest students to accept unpaid internships critical to their career development, which you will read about in the "Development Update."
Finally, we will introduce you personally to Dr. Clarence Lusane, professor and director of the Comparative and Regional Studies M.A. program, who is the author of The Black History of the White House.
Please contact us at siscomm@american.edu with news, comments or questions. We especially want to hear from our alumni to keep you informed about your classmates and your alma mater.
James M. Goldgeier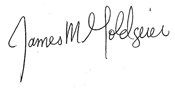 Dean
School of International Service
American University
---
Jackson Named Top-20 International Relations Scholar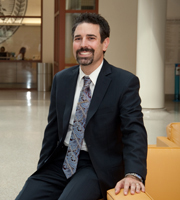 Associate Dean for Undergraduate Education Patrick Thaddeus Jackson was named one of the top 20 "most interesting" scholars in international affairs today by participants in the Teaching, Research and International Policy (TRIP) project based at the College of William and Mary. The TRIP initiative is co-chaired by Principal Investigator Daniel Maliniak and Professors Susan Peterson and Michael J. Tierney.
SIS Dean James Goldgeier said, "Patrick Jackson has long been recognized by his colleagues around the world for his commitment to scholastic excellence and his innovative approach to the international relations field."
Jackson's research areas of interest include culture and agency, international relations theory (particularly the intersection of realism and constructivism), the philosophy of science, sociological methodology, the role of rhetoric in public life, the concept of Western Civilization and the political and social theory of Max Weber.
"It was tremendously gratifying to be listed by my peers alongside such distinguished and long-established IR scholars," said Jackson. "Having one's work recognized as interesting and innovative by one's colleagues is perhaps the highest academic compliment."
The study surveyed over 7,000 international relations scholars around the world to determine the respondents' research areas and educational histories.
In the same TRIP survey, respondents rated American University's master's programs 10th in the world for students pursuing policy careers in international relations, and 20th among world universities for undergraduate students to study international relations.
---
SIS to Commemorate Cuban Missile Crisis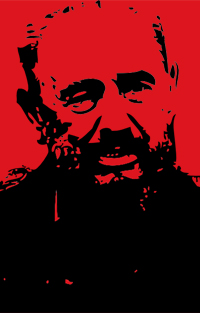 From Oct. 16 - 28, SIS will host events commemorating the 50th anniversary of the Cuban Missile Crisis. The school will also observe the anniversary by including a fall 2012 graduate class taught by U.S. Foreign Policy Professor Philip Brenner, "Missiles and Crisis Decisions," and an undergraduate class, "Cuban Missile Crisis Lessons," by adjunct professor of U.S. Foreign Policy and former Washington Post reporter Michael Dobbs. The school will also host a series of talks by Cold War experts.
"There are three things to take away from the Crisis," said Brenner, co-author with James G. Blight of the Balsillie School of International Affairs in Ontario, of Sad and Luminous Days: Cuba's Struggle with the Superpowers after the Missile Crisis (Rowman and Littlefield 2007). "First, it's important for students to understand events from more than their own perspective. Second, we want them to understand that the traditional lesson that we got Cuba to back down is exactly wrong - President Kennedy was looking for ways to give the other side an out. Third, the Cuban Missile Crisis has been used by all three sides - the U.S., Cuba and the Soviets - to understand issues they've later had to deal with."
Dobbs' course allows students to "get real-time insights into the actions, and calculations, of politicians and military leaders in the United States, Soviet Union and Cuba," he said. "We are also looking at the operations of U.S. intelligence - what they got right and what they got wrong. As in 2012, there were elections looming in 1962, and JFK had to pay attention to the domestic political calendar in addition to trying to prevent a nuclear war. It is a useful course for undergraduates because it enables them to use the knowledge they gained from other courses to look in depth at a real-life crisis."
Dean James Goldgeier and Brenner are working with colleagues from other area universities and institutions to host events across Washington, D.C. during the entire 13 days of crisis.
"The Cuban Missile Crisis was the most dangerous event in human history, and the closest we have come to a full-blown nuclear war," said Goldgeier. "President Kennedy's speech at American University the following year laid out his vision for a more peaceful world, and we at SIS have been proud to 'wage peace' throughout the school's history. Having top experts such as Professors Brenner and Dobbs continue this tradition and help students understand those critical days and months 50 years later is invaluable for those who will become our future leaders."
More information on the event lineup is available in the "Events" section of SIS News.
---
Gutner, Jackson Appointed to Focus on Undergraduate & Graduate Programs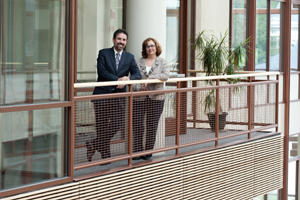 Two faculty members have taken on new roles in the School of International Service's administration. Associate Professor Tamar Gutner will now serve as the new Associate Dean for Faculty Affairs and Graduate Education, and Professor Patrick Thaddeus Jackson will hold the position of Associate Dean for Undergraduate Education.
SIS Dean James Goldgeier realized the need for two different posts to cater to two separate constituencies.
"We created two new associate dean positions because undergraduate and graduate education have very different purposes," he said. "We hope to create the very best liberal arts undergraduate education in international affairs, and Dean Jackson is a visionary in this area. We also hope to create the very best professional education for our M.A. students, and Dean Gutner's tremendous range of experience and knowledge make her the perfect person to help us take our program to the next level."
Gutner served as the program director for both the International Politics and the International Economic Relations programs. Her background includes degrees from Northwestern and Johns Hopkins Universities and the Massachusetts Institute of Technology, where she earned her PhD in political science. Gutner's research and teaching interests include international organizations, global environmental politics and international political economy. She has been a member of the SIS community since 1999.
"One of my main goals is to work with other faculty and staff to implement changes to the M.A. degree that were recommended by last year's faculty-led task force on professionalizing the M.A. program and approved by the SIS faculty and Dean," said Gutner. "These include creating new practica and professional skills courses for students. The school has experienced amazing growth in the past decade, and there clearly was demand to have one person focusing solely on the undergrad side, and another person working on faculty and graduate education issues."
Jackson joined SIS in 2000 and served as the director of American University's General Education Program and the University College's living-learning program. His research focuses on culture and agency, international relations, scientific methodology, the role of rhetoric in public life, civilizations in world politics and the sociology of academic knowledge. His most recent publication is The Conduct of Inquiry in International Relations: Philosophy of Science and Its Implications for the Study of World Politics (Routledge 2011).
"I am absolutely thrilled to be returning to SIS full-time to take up this new administrative position," said Jackson. "Undergraduate education at a school like ours should be firmly rooted in the liberal arts and sciences, interdisciplinary to the core, and aimed at helping students become better equipped intellectually to think critically about the most pressing global challenges we face."
Jackson said students, as citizens of a planet characterized by overlapping worlds and complex relations, should have the opportunity to find their truest vocations and discover their passions.
---
Alumni Weekend Celebrates Soaring Eagles 50th Anniversary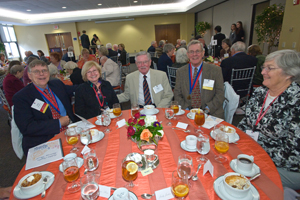 When AU alumni and friends return to campus for All-American Weekend from Oct. 19 - 21, the newest Golden Eagles, or 50-year graduates, will be among them. For the first time, inaugural School of International Service alumni will join the Golden Eagles as the weekend's events celebrate the first students to attend SIS for a full four years.
AU and SIS will honor the elite group throughout the weekend. There will be a Golden Eagles luncheon and post-luncheon tea on Friday, Oct. 19, and a breakfast Saturday in the SIS building, room 102, from 8:30 a.m. - 10 a.m. with Dean James Goldgeier. There will also be a dinner for the SIS classes of 1961 - 1963 at the DACOR-Bacon House in Dupont Circle on Saturday, Oct. 20.
"SIS is excited to welcome back its first alumni during All-American Weekend. Between the events and opportunities for them to reacquaint themselves with SIS, and the tour of our new building, they will know that we look to them as the forerunners of the top-ten school that SIS has become," said Goldgeier.
For information on All-American weekend events and registration, visit the AU website.
---
SIS Prof's Honey-Do List: Master Beekeeping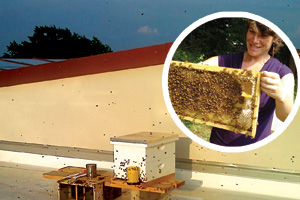 The School of International Service has been abuzz with activity since 10,000 honeybees and their queen took up residence on SIS's green roof. Eve Bratman, professor of International Development and amateur beekeeper, spearheaded the hive installation in May.
"Beekeeping seemed a natural way to use our green SIS building to promote an even more positive ecological footprint," said Bratman, who formed a honeybee co-op of 35 SIS faculty and staff who chipped in for supplies and who will share the bees' bounty. Within a year or two, the hive - which will move near the Kreeger Building in the fall to make it more accessible to visitors - will produce 40 to 100 pounds of honey.
Bratman, who teaches units on urban agriculture and urban ecosystems in her Environment and Development class, has also installed two more hives near Kreeger.
"They're going to be very happy here in upper northwest Washington, where it's especially lush," she said of the bee population, which will swell eventually to 40,000-60,000.
---
Sustainable Beauty with a "Sparck"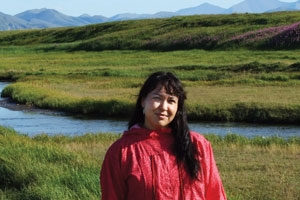 Few Americans have ever journeyed farther than Michelle Sparck, SIS/BS '95, to study at SIS. Home is Bethel, Alaska - more than 3,000 miles west of Washington, D.C.
"My mother is indigenous to western Alaska," said Sparck, a member of the Quissunamiut tribe. "She saw how valuable it was for us to know where we came from through my father's eyes. Our dad was from Baltimore. Even though we grew up in the hinterlands of Alaska, we would travel down states and become familiar with concrete. We even loved humidity."
After earning a degree in international studies, Sparck worked for the late Senator Ted Stevens (R-AK) and Representative Don Young (R-AK) before heading back to Alaska to join her sisters, Amy and Cika. Together they started a bath and beauty supply company that uses the natural resources of the Arctic they call home.
"The idea came from doing our annual gathering," she said. "We're still hunters and gatherers as a people. It was our job to gather plants and berries to freeze for the winter. We always felt there was something more we could do with our modest take."
They got their chance in 2006, when their business plan won $20,000 in seed money in an Alaska Federation of Natives (AFN) competition, and Arxotica was born.
The company, which was awarded another $70,000 from AFN two years later, sells skin creams, serums, lotions and soaps infused with natural Alaskan plants, flowers, berries, glacier water and salmon oil.
"They are Arctic super food for your skin," Sparck said. "These plants grow like crazy the second the snow melts. They have to be strong to withstand the effects of 20 hours of daylight in the summer and permafrost five feet below them. They're filled with nutrients."
The sisters gather the fireweed blossoms, crowberry and wormwood, as their ancestors have for generations before them. "Harvesting is not mechanized. It's all picked with our hands," Sparck said. "It's really hard, grueling labor, but we pick at a good speed."
The business has no bricks and mortar; manufacturing, packaging and shipping are outsourced. Online sales began in March 2011, and orders have come in from places as varied as Canada, Ohio and California. Sparck hopes to expand the brand, but that's not her driving goal.
"It sounds daunting, but we want to change the face of western Alaska's economy," she said. "We think this is a growth industry that's manageable and sustainable. It's compatible with our subsistence way of life. We leave no footprint."
Thus ensuring that the land they love, like their customers' skin, remains forever young.
Back to School, Moving Forward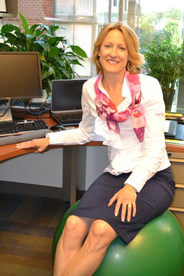 Laura Lartigue, SIS/MIS '11, holds a bachelor of fine arts, a master's degree in English, a certification in journalism and a commitment to lifelong learning. But despite these achievements, there was still something missing for the communications manager of the Leadership, Management and Governance project within the nonprofit Management Sciences for Health, based in Cambridge, Mass.
Lartigue wanted to go back to school and was interested in studying with other non-traditional and mid-career students. After researching other graduate programs in the area, Lartigue chose the Master's of International Service (MIS) program at SIS.
"What I wanted from my graduate school experience - and I felt like I got from being in the MIS program - as a bigger picture view of international relations and development, and more progressive and alternative approaches to problem-solving in the international arena," said Lartigue. "My colleagues were also great, a real mix of professionals from the diplomatic, military, development and private sectors."
While many MIS students balance full-time positions and their schoolwork, Lartigue chose to go to put her career on hold and focus on her classes, finishing the program in a year and a half. Lartigue said that being a full-time student allowed her to spend more time at home with her two teenagers.
"Memorable professors and thought-provoking classes" highlighted Lartigue's experience during the MIS. She studied International Relations, Political Economy of Oil and Energy, French Culture through Film and Corporate Social Responsibility. Toward the end of her time at SIS, she was selected as a Presidential Management Fellow, but Lartigue declined the honor to be "in more direct contact with our host country clients" in her current position. It also gave her the chance to travel to Afghanistan and Burkina Faso in 2012.
"Although I am well into my career, I feel as though the MIS program gave it a boost - I was able to do research on subjects related to my work that have always been of great interest to me, and that I needed to know more about," said Lartigue. "It also provided me with an update on new issues and developments in international relations, development and human rights, which have already informed and enriched my work."
Fulbright Winner Built on Peace Corps Experience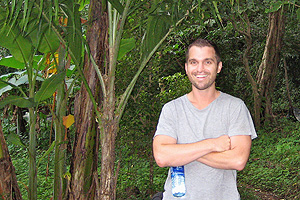 Earlier this year, American University celebrated a new school record with 14 Fulbright scholars. Ben Williams' experience in Nicaragua demonstrates the positive impact a Fulbright can have on the winner and the world.
For Williams, SIS/MA '11, seeing an economic concept at work was invigorating. The California native returned from Managua last spring. He went there on a Fulbright Scholarship to study the effectiveness of microfinance programs in rural and urban populations.
"I was comparing client retention rates and loan payback rates between these two subsets to see if there were any factors I could isolate that would account for success," said Williams.
He became fascinated with the subject when he served in the Peace Corps in El Salvador before he enrolled in the International Development master's program at AU.
"I did a little work with a microfinance group there, and I saw how much potential there is for this idea in small, underdeveloped communities," he said. "The impact isn't large when you measure it against our life here, but down there if you can buy an extra goat or more chickens, if you can increase your assets even slightly, it helps a lot."
"If you have more collateral, you can get a bigger loan, or you can sell the cow and send your kids to school. There are lots of ripple effects."
Williams knew he wanted to come to Washington for graduate school. He chose AU in part because "the access to faculty was outstanding."
"Ben stood out," said one of his professors, Daniel Esser of the SIS International Development program. "His academic background from Berkeley is in literature, but he 'gets' social science. He would read an article or a book chapter and it would trigger a cascade of interesting, critical thoughts. He constantly questioned common wisdom. He is probably the most impressive M.A. student I've taught at AU thus far."
While most of his experience was in Latin America, Williams decided to work in India the summer between his first and second years at AU. In the city of Bhubaneswar, on the eastern central coast, he wrote a 50-page report, "Urban Microfinance in Orissa: Key Challenges, Opportunities and Insights," for the Madhyam Foundation.
"I worked six days a week and I lived above my workplace, so I had a lot of time on my hands," he said. "I thought, 'you know what, if I'm going to sit around here with nothing to do, I'm going to apply to everything.' So I applied to Fulbright and a whole bunch of others."
When he began his research, he found that microfinance programs were more successful in urban areas than rural ones. "This has to do with migration patterns," he said. "In Nicaragua the rural workers tend to have seasonal migration. They go and work in the coffee fields in Costa Rica, where they get paid a little bit more than they would in Nicaragua. Migrating there is not as harrowing as it is to the U.S. You get less money, but you're gone for a smaller amount of time."
"In the urban centers, people tend to go to the U.S., and when they go to the U.S. they stay. They send money back - it's steadier. So the urban borrowers can take more risks. It's just like here. If you know you can go home and live with mom and dad when your first business idea fails, go for it, right? Without that, you're not going to take risks."
Williams is finishing a paper on his research, a task made more difficult by the fact that he also received a Presidential Management Fellowship. Williams is rotating through federal agencies over a two-year period.
"I'm learning skills that will apply if I want to go back into international development," he said. "People studying development initially think it's about working with people on the ground, but it's really about finding sources of funding and managing funds."
Williams may pursue a career in the federal government, or he may return to school to pursue a PhD. Whatever the future holds, he knows he benefited immensely from his Fulbright experience.
---
The School of International Service, in partnership with AU's Office of Alumni Relations, kicked off "Happy Hour With Dean Goldgeier," Sept. 6 at Lost Society, a Washington, D.C., restaurant. SIS will continue its efforts to engage and involve alumni with this series of gatherings throughout the year. These events provide alumni and friends of AU/SIS an opportunity to meet and talk with the Dean on an informal basis and to hear about his plans and vision for the school. We also hope to hear from you about your experiences as an AU/SIS alumnus or alumna. We look forward to meeting and talking with you. We hope to see you soon, and for those of you who missed the first Happy Hour, stay tuned to SIS News for notice of future gatherings.
Morris Jackson
Director of Development, SIS
Dean's Internship Fund Eases Students' Financial Burdens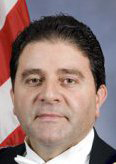 The first recipients of the Dean's Internship Fund are completing their forays into Washington's working world as the fall 2012 semester begins.
When he became Dean in 2011, James Goldgeier wanted to help students who were offered unpaid internships to accept them - without worrying about paying the rent.
Members of the SIS community were eager to be involved. Capital Communications Group CEO and SIS Dean's Council Member Akram Elias (pictured) was an initial contributor and enthusiastic supporter of the Fund.
"I've been drawn to supporting AU in general," said Elias, who began his undergraduate degree at AU and is returning to SIS part time to pursue a Master's of International Service degree. "SIS has special significance for me. My wife (Lourdes Elias, SIS/BA '86) and I met there; there's an emotional attachment to that."
Meeting Goldgeier in 2011 gave Elias the perfect opportunity to give back to SIS. "I said to my wife, 'We're going to have to do something for SIS,' and … when Jim became the new dean, I had a meeting with him and asked him about some of the priorities he had in mind and how we could be of assistance. I feel very strongly about internships, which provide added value to the program."
Lauren Snell, SIS/BA '13, who interned at the Embassy of Brazil's Office of Trade and Investment Promotion last summer, is thankful that she was one of the first five students to benefit from this new opportunity.
"I heard about the Internship Fund through the online SIS newsletter, and it was a complete miracle that I did," Snell said. "The grant enabled me to stay in D.C. during the summer by paying for my rent so I wouldn't have to worry about finances. I feel so grateful that the Dean felt I had the potential to learn while performing high-level tasks within the Embassy in Portuguese. Truly, the grant supported and empowered me to become a more confident and knowledgeable person through working at my internship."
Meghan Fort, SIS/BA '13, who interned with the federal government, said, "Attending a private institution like American University is a heavy burden on my family, and I knew a choice would have to be made between accepting an unpaid summer internship in Washington, D.C., or studying abroad during the school year. This award will allow me to accomplish both, and the experiences I will gain at AU will be priceless."
To donate to the Dean's Internship Fund, please contact Morris Jackson at mjacks@american.edu or (202) 885 - 1631.
New AU Website Helps Students and Families Manage Costs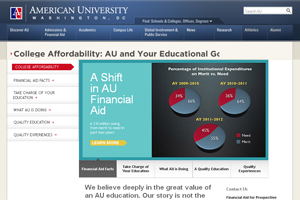 In metropolitan D.C. and across the nation, student debt, loan rates and college affordability have become increasingly important issues since the start of the recession. We understand that these issues create some concern for many students and their families, but we believe deeply in the great value of an AU education, which is strong and growing, and we are committed to help guide motivated students as they attain their educational goals here at AU.
AU has kept tuition increases reasonable and moderate, shifted institutional expenditures from merit to need-based aid to mitigate cost and make college more affordable for students in need. The University has also focused its fundraising on scholarships for AU students.
Now, American University has launched a new AU website - "College Affordability: AU & Your Education Goal." The site will focus on educating students and families about costs to attend college and loan indebtedness, improving awareness of available financial literacy programs and demonstrating the value of an AU education.
The website combines existing materials with new resources to enable students and families to better understand and manage their personal finances while helping them take the actions that best fit their educational goals.
We urge our faculty and staff to take part in these efforts as well. If you encounter any students facing financial challenges, please encourage them to seek assistance from AU's various campus offices as early as possible.
For more information about how you can help SIS students, please contact Morris Jackson at mjacks@american.edu or (202) 885 - 1631.
---
Getting to Know You: Clarence Lusane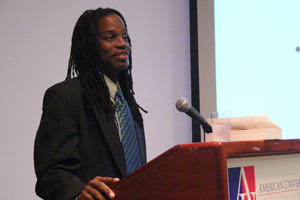 Professor Clarence Lusane at his 2011 book launch for The Black History of the White House.
Job Title: Professor/Director, Comparative and Regional Studies (CRS).
Job Duties: Overseeing the CRS master's program, curriculum and working with CRS faculty on developing courses, programs, and other activities.
How long have you worked at SIS: Since 1997 when I first came as an Assistant Professor.
What would your colleagues be surprised to learn about you: That I am a terrible swimmer, but a certified scuba diver.
Where did you grow up: Detroit, Mich.
Family & where do you live: Married to Zezeh with a 3½ year-old son, Ellington, and a 24-year-old step-daughter, Jessica, in the great state of Washington, D.C.
Hobbies: Playing jazz guitar, learning Portuguese, photography, and reading murder mysteries that take place on college campuses.
Favorite TV Show: Boardwalk Empire - an amazing and compelling dissertation on the intersection of politics, organized crime, race, disability, family relations, gender and class contextualized and embedded in larger themes of loyalty, morality, justice, the power of violence and democratic governance.
Favorite D.C. hangout: Zed's Café on Georgia Avenue in Silver Spring. It has the best hot chocolate in town!
---

The 2013 Princeton Review publication, "The Best 377 Colleges," published Aug. 21, bestowed some favorable rankings on American University:
#1 Most Politically Active Students
#6 Most Popular Study Abroad Program
#7 College City Gets High Marks
#10 Best Career Services

On Aug. 1, The New York Times quoted Robert Pastor, co-director of the Center for Democracy and Election Management and professor of U.S. Foreign Policy, on state laws increasingly requiring a photo identification in order to vote and how it may affect voter turnout. "I did a survey of Indiana, Maryland, and Mississippi and found only about 1.2 percent of registered voters did not have photo IDs. The problem remains registration - not IDs - in reducing voting participation," said Pastor.

The Wall Street Journal quoted Gordon Adams (link requires subscription), professor of U.S. Foreign Policy, on Aug. 1 about the upcoming cuts to the national security budget under the Budget Control Act. "This isn't about legislating and this isn't even about budgeting: it's about politics. This is all election-year garment rending," said Adams.

NPR's All Things Considered interviewed Benjamin Jensen, adjunct professor of International Politics, about what it would take for a breakaway mini-state in Syria to survive. "If you look, for example at other kinds of enclaves, quasi-states like South Ossetia [and] Abkhazia, these regions aren't economically viable without a patron-client relationship with a larger regional power, like Russia. In the case of an Alawite state, one would tend to believe there would be a similar relationship with Iran," said Jensen on Aug. 1.

The New York Times on Aug. 4 traced the history of moving automobile manufacturing from Japan to the United States and the possibility of moving high-tech manufacturing from that country to the United States. "The pressure put on the Japanese was absolutely critical for them to agree to export restraints," said Stephen Cohen, professor emeritus of international studies, about United States' auto trade with Japan in the 1980s.

In an op-ed for The International Herald Tribune (Global Edition of The New York Times) and The New York Times online on Aug. 21, Benjamin Jensen, adjunct professor of International Service, discussed the Taliban's most recent strategies. "These "green-on-blue" attacks - episodes in which Afghan soldiers and policemen turn their weapons on their coalition partners - are not isolated incidents. Rather, they reflect a Taliban strategy with deep roots in Afghan history," wrote Jensen.

On CNN on Aug. 20, Ibn Khaldun Chair of Islamic Studies Ambassador Akbar Ahmed discussed the frequency of honor killings in Pakistan, where many men are killing their wives in the name of Islam. "What you're seeing is a weak understanding of Islam, a weak understanding of modernity, and men who are not really understanding that they need to move their families into the 21st century and not backwards, over a millennium ago when these tribal customs were practiced," said Ahmed.

Bloomberg talked on Aug. 21 to Arturo Porzecanski, distinguished economist-in-residence and director of the International Economic Relations program, about Belize's debt offer to its stakeholders, which is very poor in comparison with Argentina's debt offer in 2001. "It puts Belize in the same league as the most punishing restructurings in sovereign history," said Porzecanski.

In an op-ed for Foreign Policy on Aug. 27, Jeff Colgan, professor of International Economic Relations, discussed the SEC's ruling that publicly listed oil companies report all taxes and payments they make to foreign governments where they operate. "Making this kind of financial information available to the public is an important step toward reducing corruption and increasing political accountability in developing countries where oil is extracted," Colgan wrote.

Kingdom of Saudi Arabia 2 News aired an interview with Ibn Khaldun Chair of Islamic Studies Ambassador Akbar Ahmed on Aug. 13 regarding the OIC Solidarity Summit that Saudi Arabia is hosting in Mecca.


Lori Handrahan, professor of International Development, appeared on Canada TV (CTV) on Aug. 10 to discuss Canada's Foreign Affairs Minister's trip to Syria. Handrahan also contributed an editorial on Aug. 10 to The Washington Times, regarding security breaches in the government and their relationship to online pornography.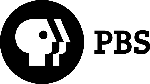 Gordon Adams, professor of U.S. Foreign Policy, discussed the drama of defense cuts for PBS News on Aug. 3.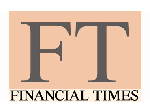 The Financial Times reviewed the newest book by Judith Shapiro, professor of Global Environmental Politics, China's Environmental Challenges, on Aug. 19, calling the work "concise and illuminating," and ChinaDialogue.net also praised the book as an "exemplary introduction … to China's ecological crisis."
---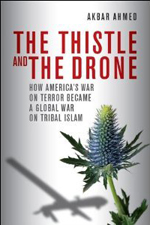 The Brookings Institution named Ibn Khaldun Chair of Islamic Studies Ambassador Akbar Ahmed's book The Thistle and the Drone: How America's War on Terror Became a Global War on Tribal Islam as the top selection of their fall 2012 catalog.
International Communication Professor Maria de Jesus was awarded a grant from the District of Columbia Developmental Center for AIDS Research (D.C. D-CFAR) to undertake her proposed study, "HIV-Related Perceptions, Barriers and Facilitators to HIV Testing, and HIV-Related Communication Norms Among East African and African American Women in Washington, D.C." Among other goals, de Jesus plans to analyze similarities and differences between African American and East African immigrant women in HIV-related knowledge, attitudes and perceptions; facilitators and barriers to HIV testing; and HIV-related communication norms.
Professor of International Communication Fanta Aw was named president-elect of the Board of Directors of NAFSA: Association of International Educators (formerly the National Association for Foreign Student Affairs), the world's largest nonprofit professional association dedicated to international education.
Comparative and Regional Studies Professor Carl LeVan organized a scholar-activist dialogue at the Institute for Policy Studies on gentrification and race in D.C. In June, Professor LeVan presented "The Future of Representation in Nigeria" at a National Intelligence Council analytic exchange with the State Department, and "The Political Basis for Negotiations with Boko Haram" at a conference organized by the Jamestown Foundation at the Carnegie Endowment for International Peace. Finally, he spoke at the State Department's Foreign Service Institute on "The Political Economy of African Responses to the U.S. Africa Command" in July.
---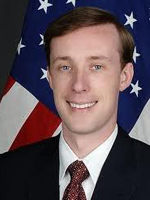 Jake Sullivan, director of policy planning at the U.S. Department of State and deputy chief of staff to Secretary of State Hillary Clinton, will speak Thursday, Sept. 13 in the SIS Abramson Family Founders Room from 12 p.m. - 1:30 p.m. The event is free and open to the public.
The Washington Institute for Public and International Affairs Research (WIPAR) is sponsoring a "Formulating an Unbeatable Narrative" workshop on Friday, Sept. 14 from 12 p.m. - 2 p.m. in SIS 300. The event is open to SIS and SPA faculty only; lunch will be served. Please RSVP by Sept. 12 to wipar@american.edu.
The SIS/SPA Fall 2012 Research Seminar Series will host Matt Dull, assistant professor of public administration at Virginia Tech University (Alexandria) on Thursday, Sept. 20 in 103 Ward from 12 p.m. - 1 p.m. The event is free and open to the public; bring a bag lunch.
Seth Goldman, CEO and cofounder of Honest Tea, will speak on Thursday, Oct. 4 in the SIS Abramson Family Founders Room from 5:30 p.m. - 7 p.m. The event is free and open to the public.
Cuban Missile Crisis
On Tuesday, Oct. 16, join James G. Blight, Centre for International Governance Innovation chair in foreign policy development at the Balsillie School of International Affairs, and the Department of History, University of Waterloo, in Waterloo, Ontario, Canada, and Janet Lang, a research professor at the Balsillie School of International Affairs, and the Department of History, University of Waterloo, in Waterloo, Ontario, Canada. They will speak on "The Armageddon Letters: Kennedy, Khrushchev, Castro in the Cuban Missile Crisis" in the Abramson Family Founders Room from 12 p.m. - 1:30 p.m. The event is free and open to the public.
David M. Barrett, professor of political science at Villanova University, and Max Holland, journalist, author and editor of Washington Decoded, an online publication, will discuss their book, Blind Over Cuba: The Photo Gap and the Missile Crisis (Foreign Relations and the Presidency) on Thursday, Oct. 18 in the Abramson Family Founders Room from 1 p.m. - 2 p.m. The talk is free and open to the public.
National Security Archive Research Fellow and SIS Adjunct Professor of Comparative and Regional Studies Svetlana Savranskaya will talk about "The Soviet Cuban Missile Crisis: Mikoyan, Castro, Kennedy, Khrushchev and the Missiles of November" from 5:30 p.m. - 7 p.m. on Monday, Oct. 22. The location will be announced; the event is free and open to the public.
Ronald Pruessen, professor of history at the University of Toronto, will deliver a book talk on Fifty Years of Revolution: Perspectives on Cuba, the United States, and the World on Wednesday, Oct. 24 in SIS 300 from 12:30 p.m. - 1:30 p.m. The presentation is free and open to the public.