Strengthening U.S.-China Ties
| | |
| --- | --- |
| | Diplomacy is often confined to high-level talks between world leaders. But improving relations between the United States and China needs a grassroots approach, and students will play a vital role in bringing the two global powers closer together. That was the message at a recent 100,000 Strong Foundation conference at SIS. Read More. |
| | |
| --- | --- |
| | Frederick Barton, Assistant Secretary of State for Conflict and Stabilization Operations, told an SIS audience on November 18 that the United States is entering a "golden era of American diplomacy" as it moves away from a "terrorist-heavy narrative to an understanding that conflict resolution has an extremely heavy political, diplomatic element." Read More. |
Students Connect Water with Peace
| | |
| --- | --- |
| | In the Middle East, water too often equals conflict. This past summer, when a team of MA students from SIS arrived in Israel and the Palestinian West Bank for a capstone research practicum on water issues, they found cause for hope. Read More. |
Diving into Design Thinking
| | |
| --- | --- |
| | "Design thinking" is a human-centered approach to problem solving that focuses on what people want and need. The process uses these insights to discover solutions that are more useful and engaging for the end user. How can these methods be used to create social change? This question was explored at a Discover Design Thinking Workshop hosted by the Social Enterprise program at SIS. Read More. |
Wonkblog Event: Climate Change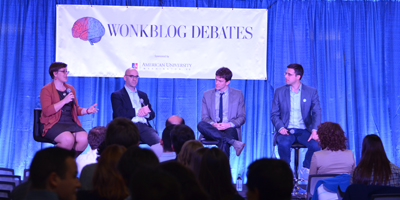 A lively panel at SIS led by the Washington Post's Ezra Klein, and introduced by SIS Professor Paul Wapner, discussed how climate policy should change as the day of reckoning comes closer. Watch the Video.
John Prendergast: Making A Difference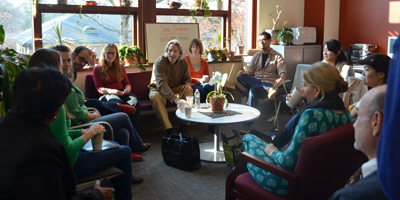 John Prendergast, SIS/MA '90, Co-founder of the Enough Project and the Satellite Sentinel Project, spent two days at SIS as a "practitioner in residence" and detailed ten keys to making a meaningful difference in the world through development work.
Past Event Highlights
| | |
| --- | --- |
| | French American Global Forum: The United Nations At the Eve of Seventy: Is Global Governance Broken? The panel asked if the UN is capable of handling today's global challenges and whether the system of global governance that was built after World War II is still relevant. Watch the Video. |
Upcoming Event Highlights
Book Launch
Rough Justice: The International Criminal Court in a World of Power Politics
Speaker: David Bosco, Assistant Professor, SIS
Date: Thursday, January 23
Time: 1:00-2:30pm
Location: Abramson Family Founders Room
SIS Industry Days
Date: Wednesday, January 29
Time: 12:00-4:00pm
Location: See link for details
Open to students and alumni; RSVP by January 9
French-American Global Forum
NATO Today: Does Collective Security Work?
Date: Tuesday, February 11
Time: 7:00-8:30pm
Location: Abramson Family Founders Room
Dean's Discussion
The Dispensable Nation: American Foreign Policy in Retreat
Speaker: Vali Nasr, Dean, School of Advanced International Studies,
The Johns Hopkins University.
Date: Thursday, February 13
Time: 3:30-4:30pm
Location: Abramson Family Founders Room
Iraq Today
Speaker: Lukman Faily, Ambassador of Iraq to the U.S.
Date: Tuesday, February 18
Time: 3:00-5:00pm
Location: Butler Board Room

Get in the holiday spirit with the AU Holiday Video!
Stay connected: like SIS on Facebook and follow SIS on Twitter.
Fall admissions deadlines are drawing near: Ph.D. program: December 15; M.A. programs: January 15.
Nominate an alumna/alumnus of the year! And save the date - the awards presentation will be on April 10.

Spotlight on: David Hardison, SIS/MA '12.
Kathryn Tinker, SIS/BA '14, elected to serve on the Tenleytown neighborhood committee.
Stay up-to-date on alumni news and events. Keep up with your classmates on the Class Notes page.