SIS Launches Online International Relations Masters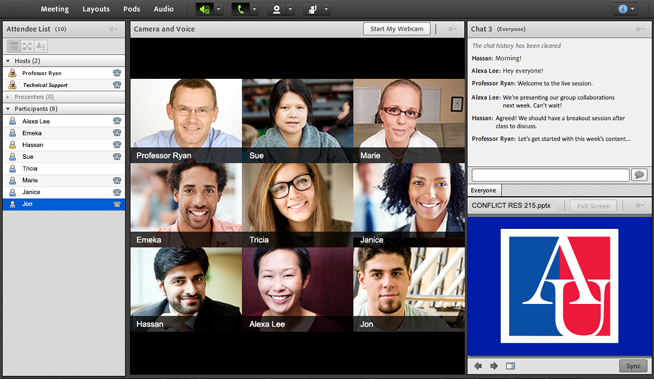 SIS announced today it is offering a fully web-based Master of Arts in International Relations degree to bring AU's dynamic education to the wider world. The new International Relations Online program is the first top-tier, online, graduate program of its caliber in International Relations. Classes will start in May 2013.
"With International Relations Online, SIS and its faculty will educate and prepare top international relations students to apply their knowledge and make an impact in an increasingly interconnected and complex world," said Dean James Goldgeier.
The degree is designed for students who would like to begin an International Relations career, as well as those already working in the field - in the United States or around the world. "Many ambitious engaged people are unable to come to campus to do a degree, but they still want the same high-quality program. In the coming years, this will be more and more attractive to busy people."
The new master's program allows students to take advantage of the SIS curriculum, faculty expertise, career advising and alumni networking while working largely on their own time. This affords students who are employed full-time, or who live outside Washington, D.C., the opportunity to access the same educational benefits as on-campus students.
Students will participate in weekly class sessions in an innovative, live, virtual classroom where they will interact with renowned SIS faculty and a diverse group of peers to analyze and discuss course content. The degree program features highly produced, self-paced content accessible to students 24/7 from anywhere they have an Internet connection.
Like AU's on-campus program, International Relations Online features a curriculum that provides students with a strong grounding in the field of international relations and the professional skills to succeed in their careers.
International Relations Online students will meet the same academic requirements and selective admissions criteria as students attending AU's on-campus programs. Students will attend weekly online class sessions and complete a research project, or capstone, before the completion of the program. Students also will have the chance to meet classmates and faculty on campus and participate in AU's commencement.
"Given that we are a leading international studies school, we needed to occupy this space," said Patrick Thaddeus Jackson, SIS associate dean for undergraduate education and one of the new program's instructors. "It wasn't a question of whether we were going to do this. It was a question of when."
The two-year program features a curriculum grounded in international studies. Students also will be required to select a focus of study in either Sustainable International Development or Global Security and Conflict Resolution.
In terms of cost, the program is comparable to an on-campus degree. The objective is to "offer an educational experience that is as good as, and in some ways better than, the face-to-face degree," said SIS Professor Stephen Silvia, the program's coordinator.
The online experience is not meant to mimic that of a traditional classroom, said Jackson.
International Relations Online students will participate in structured online debates and make virtual presentations to the class using multimedia. Students will also participate in weekly class sessions in a live, virtual classroom. Classes, generally with 15 students, will feature a video conferencing element similar to Google Hangout.
"The quality of the online platform is remarkable," Goldgeier said. "This isn't someone standing in front of a camera delivering a two-hour lecture."
The program, a partnership between SIS and education-technology company 2U, features highly produced, self-paced content, which is accessible to students whenever they want.
The SIS online master's program mirrors Jackson's teaching methods; he incorporates podcasting, blogging and interactive group discussions. He likes the challenge of having to think about new ways of dealing with multiple learning styles, information delivery methods and student assessment through technology.
"Technology can be used to further the aims of student inquiry, and foster a broader understanding of the material," Jackson said.
For more information about International Relations Online, please visit www.IRonline.american.edu or call 1-855-306-AUIR.
---
MORE HEADLINES - 12/11/2012
Professor Linda Lucia Lubrano Retires
Creation of the Public and Cultural Diplomacy Forum
Countryman on Nuclear Nonproliferation
Dean Goldgeier and Ambassador Dennis Ross discuss U.S. Foreign Policy
Human Rights Expert Examines U.S. Use of Drones

---
Professor Linda Lucia Lubrano Retires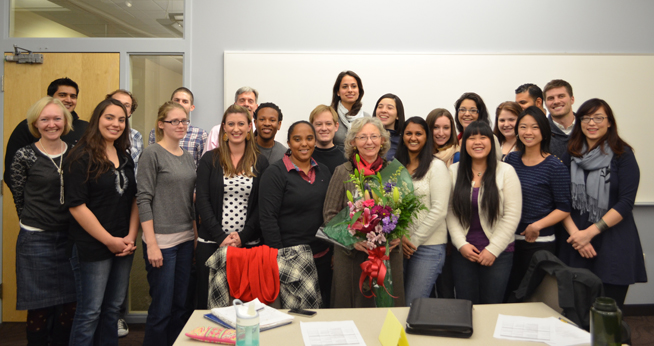 Professor Linda Lucia Lubrano and her fall 2012 Theories of Comparative and International Studies students.
After 45 years as a member of SIS's Comparative and Regional Studies program, Professor Linda Lucia Lubrano taught her last class Dec. 6.
"I am proud to be Linda Lubrano's colleague," said University Professor James Mittelman. "Proud of her skillful leadership and high standards as director of the Comparative and Regional Studies program, stellar scholarship, contributions mentoring students and faculty, humane values and incredible generosity."
Professor Rachel Sullivan Robinson praised Lubrano's support of female faculty.
"When I think of Linda, I think of her commitment to ensuring the success of women faculty members," said Robinson. "Not only has she blazed a path as one of the first tenured female faculty at SIS, but I have observed her across numerous fora, highlighting the achievements of the women on the faculty."
"She was an excellent mentor in my early days on the faculty," said Professor Michelle Egan. "She has provided strong support for many women faculty across the school."
Lubrano began teaching at SIS in September 1968 after acquiring Ph.D. and M.A. degrees from Indiana State University and a B.A., cum laude, from Hunter College in New York. She has served as a fellow at the Woodrow Wilson International Center for Scholars and at Stanford University's Hoover Institution. At AU, Lubrano was awarded the University Award for Distinguished Teaching; Outstanding Research, Scholarship and Professional Contributions; and Outstanding Contributions to Academic Development. In 2009, she was named the SIS Faculty Member of the Year.
"Linda also helped to initiate the University-wide Honors program, the international relations honors society Sigma Iota Rho and helped to bring a Phi Beta Kappa chapter to AU," said Egan.
Lubrano's contributions to SIS have been felt for years by many classes of students, who praise her innovative way of teaching and passion for her subject.
"She makes theory understandable. I think about things in a whole new way," said Amy Newell, SIS/MA '14. Neena Goel, SIS/MA '13, added, "Professor Lubrano knows a lot about her field, and she makes the classes as interesting as possible."
Lubrano's teaching influence has extended beyond the students, said Professor Carl LeVan. "I count myself as one of her students because she always took time out to teach me how to be a better teacher. I am grateful for those lessons."
---
Creation of the Public and Cultural Diplomacy Forum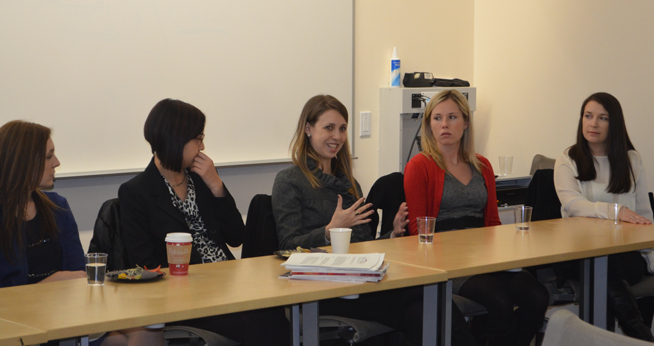 Anna Griffin, SOC/SIS/MA '12, Katie Leasor, SOC/SIS/MA '12, and Lindsey Boyle, SOC/SIS/MA '11 spoke as panelists at an International Communication event at SIS Nov. 29.
AU recently launched the Public and Cultural Diplomacy Forum (PCDF) to promote the scholarship and teaching of public diplomacy at AU. The forum will convene events related to public and cultural diplomacy and feature prominent practitioners and scholars in the field.
SIS Professor Craig Hayden and Intercultural Management Institute Director Robert Kelley will lead the PCDF. The forum will provide a venue to discuss issues related to public and cultural diplomacy and the increasing centrality of new media technologies applied to novel forms of collaborative diplomacy, said Hayden. Other faculty also helped create the PCDF, including School of Communication Professor Rhonda Zaharna and SIS U.S. Foreign Policy Professor Ambassador Anthony Quainton.
"Public diplomacy brings together international politics, foreign policy and communication in ways that highlight the strength of what we offer at AU and SIS," said Hayden. "Public diplomacy also has generated a lot of interest among students. The PCDF was created to provide a vehicle to showcase what AU offers and a way for students to help shape AU's contribution to this interdisciplinary concept."
Hayden has been planning this new forum for the past year, with the goal of involving faculty and students in the collaborative effort. The PCDF evolved from a series of events, and will now develop into an enduring research initiative for AU. The PCDF has already sponsored events featuring the Public Diplomacy Council and recognized public diplomacy scholars, as well as current U.S. Undersecretary of State for Public Diplomacy and Public Affairs Tara Sonenshine.
Future PCDF activities will include a discussion series, research colloquia and online publications. The program's blog, TheDiplomatist, serves as an online home for PCDF students and faculty, hosting the forum's event calendar and Twitter feed. Hayden said student involvement is paramount to the goals of the forum. International Communication and International Media students also will plan and implement events, such as the forthcoming "Gastro-Diplomacy" and collaborative engagement forums in spring 2013.
---
Countryman on Nuclear Nonproliferation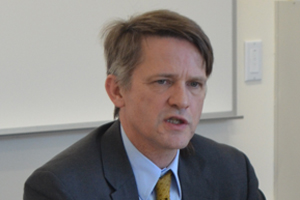 Thomas Countryman, assistant secretary for international security and nonproliferation at the U.S. State Department, discussed current and future nonproliferation and arms control efforts, including the creation of a nuclear-free zone in the Middle East, the nuclear disarmament of North Korea and the negotiation of an international arms control treaty regulating trade of traditional weapons Nov. 26. The U.S. Foreign Policy program sponsored the event.
---
Ambassador Dennis Ross Discusses U.S. Foreign Policy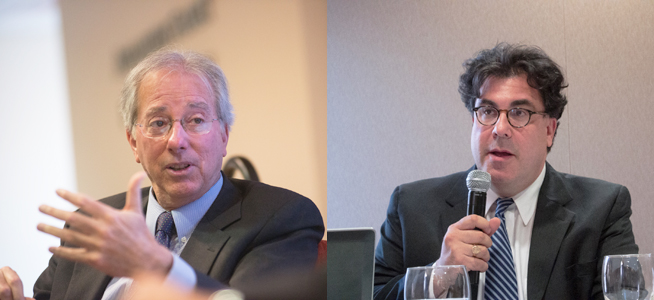 Ambassador Dennis Ross (l) led the discussion, and Alan Fleischmann, SIS/SPA/BA/BS '87, (r) moderated the in person and online Q&A.
There is a markedly different context for the peace process in the Middle East today compared with recent years, Ambassador Dennis Ross told a recent SIS foreign policy audience. The Arab "awakening," as Ross characterized the Arab Spring, the rise of Hamas and Hezbollah, and Iran's push toward nuclearization have changed the Middle East and the global approach to peace in the region.
When President Bill Clinton named Ross as his Middle East envoy in 1993, the region looked very different than it does now. A coalition of nations had just fought in the Gulf War. Iraq had been weakened and peace seemed to be a natural extension of that conflict. Ross and his fellow diplomats were able to broker a number of historic peace agreements, including the Israel-Jordan Treaty of Peace in 1994, the Israeli-Palestinian Interim Agreement in 1995 and the Hebron Accord in 1997. Ross said that dramatic changes in the region are just beginning. Middle East policy during the second Obama administration is likely to include a diplomatic initiative with Iran in 2013 because of the country's advancing nuclear program, Ross said. He also predicted further evolution in Saudi Arabia because political appointments in the country are increasingly being shaped by ability rather than political influence.
Ross is the Zeigler Distinguished Fellow at the Washington Institute for Near East Policy. He also served as special assistant to President Obama, National Security Council senior director for the Central Region, and Special Advisor to Secretary of State Hillary Clinton for The Gulf and Southwest Asia. Ross, who serves on the SIS Dean's Council, spoke at AU as a part of the Dean's Discussion series co-sponsored by the Center for Israel Studies. The event was moderated on site and via Twitter by Alan Fleischmann, SIS/SPA/BA/BS '87, who is Dean's Council Chair, 2008 SIS Alumnus of the Year Award recipient and the 2011 Cyrus A. Ansary Medal recipient.
Ross termed the Arab Spring uprisings an "awakening" rather than a "spring." "It's an awakening because you have many in the Arab world for the first time seeing themselves as citizens, not subjects. That's a profound difference. Citizens have rights, they have expectations, they have demands, and they can hold their government accountable. And that's profoundly significant if in fact that accountability can be created."
"Spring connotes a kind of very rapid change all for the better. Everything will flower soon and we'll have this wonderful springtime. The despotism of the past will be replaced by enlightenment and that was never going to be the case," Ross said.
Ross said he expects this awakening will span generations. Institutions of accountability, such as functioning judiciary, need to be crafted, and that will take time. Ross outlined four guiding principles in order for the various democratic movements in the Middle East to succeed, which he said "should be the core on which we build our approach to all the countries in the region."
Respect for minority rights: "Egypt is mostly homogenous - 90 percent Sunni, 10 percent Coptic Christian - but that's not the case throughout the region. So respect for minority rights is tremendously important. Because if the 10 percent of the population feels there's no security there and they leave, who will invest in the country?"
Respect for women's rights: "Don't exclude half your population. In Egypt, 56 percent of the women are illiterate. Is there any prospect that Egypt will become a successful society if that doesn't change?"
Respect for pluralism: "This says that there should be a competitive political space."
Respect for international obligations: "Egypt has a treaty with Israel. Who will invest in Egypt if they don't respect that treaty?"
Whether the U.S. and allied nations support these nascent democracies should depend on how well the countries embrace these principles. "You live up to these principles; we'll mobilize support on the international stage for you. If you don't, don't expect us to provide support," said Ross. "I would say we pursue the peace issue, but we pursue it with our eyes open."
---
Human Rights Expert Examines U.S. Use of Drones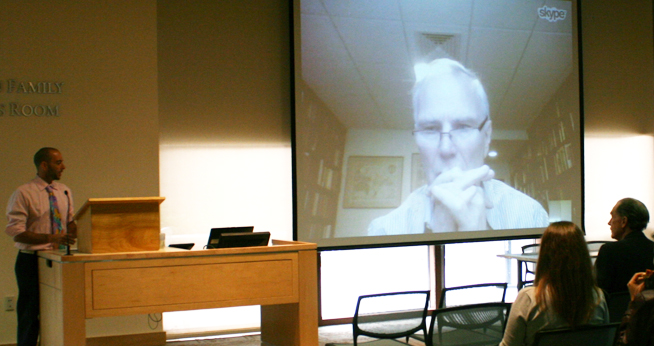 Professor Jeff Bachman moderates a Skype discussion with Former U.N. Special Rapporteur Philip Alston.
The United States needs to be more transparent about its use of drones in order to comply with international law, Philip Alston, a leading human rights expert told an SIS audience during Human Rights Week. Alston, former U.N. Special Rapporteur said this lack of transparency and accountability has kept the U.S. use of drones a controversial issue since they became a national security tool after the September 11 terrorist attacks.
Alston, the John Norton Pomeroy professor at law at New York University, was invited by SIS's International Peace and Conflict Resolution program to speak via Skype on Nov. 15 as part of a series of talks during Human Rights Week. Alston was U.N. Rapporteur from 2004 to 2010, and during that time he investigated U.S. use of drones and wrote various reports about targeted killings.
International law established that targeted killings may be legal in the case of armed conflict, Alston said. However, the law sets strict limits as to who is targeted and under what circumstances. He said it is unclear whether the U.S. program follows these rules because the Central Intelligence Agency (CIA) governs it.
"The CIA will neither confirm nor deny that it has been involved in a drone strike," said Alston. The CIA is allowed to perform covert operations, which means, "any notion of accountability, central to international human rights law, is completely nullified," he said.
Alston said the international laws were established to prevent other countries from acting in ways that have been deemed unacceptable by the international community, and that the U.S. needs to follow the same provisions. If it does not, "it will be very difficult to object to the same types of operations from other countries," he said.
---
SIS Alumnus/Alumna of the Year Award Nominations Now Being Accepted
Nominations are open for the 2013 SIS Alumnus/Alumna of the Year Award. Staff, faculty, alumni and friends are invited to nominate a SIS alumnus/alumna who exemplifies the ideals and values of the school - a change agent serving the community and helping to make the world a better place, whether working in the public, private or nonprofit sector.
Nominations will be accepted through Tuesday, Jan. 8, 2013. The award recipient will be notified by the end of January and honored at a special event on Thursday, April 11, 2013.
If you have questions, please contact Stephanie Block, associate director, alumni relations, directly.
Class Notes
We invite readers to send comments to SISComm@american.edu. Please include your graduation year and degree.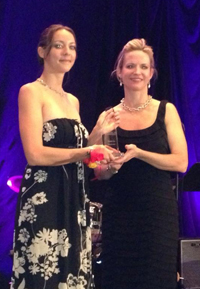 Sarah Chu (l), SIS/MA '13, recently
won the March of Dimes' Heroine in Technology: Rising Star award for her work as the project coordinator of
RAISE, which helps women in the fields
of science, technology, engineering and math advance their careers.
Rio Guerrero, SIS/CAS/BA '94, received the "Best Lawyers Under 40" national award from the National Asian Pacific American Bar Association. Guerrero's firm, Guerrero Yee LLC, is located in New York City and focuses on immigration, estate planning, business litigation, corporate representation and real estate.
Marselha Gonçalves Margerin, SIS/MA '03, works for RFK Partners for Human Rights.
Matthew Nuzzo, SIS/MA '07, works for Invertix.
Meredith Brandt, SIS/MA '09, works for the American Red Cross National Capital Region. Routledge published Aid, Insurgencies and Conflict Transformation: When Greed is Good by Rob Kevlihan, SIS/Ph.D. '09, as part of the Studies in Security and Conflict Management series. The book includes detailed case studies of South Sudan, Northern Ireland and Tajikistan, and is based on Kevlihan's doctoral dissertation.
Matt Schultz, SIS/MA '10, works for the International Rescue Committee.
Alia Gant, SIS/BA '11, is a student in the International Relations graduate program at the University of Iowa. Avideh Mayville, SIS/MA '11, works at HasNa.
Kristin Cassidy, SIS/BA '12, is working for the U.S. Environmental Protection Agency. Robert Newman, SIS/BA '12, works at the Institute for Humane Studies. Neha Raval, SIS/MA '12, is working for the Global Fund for Children. Christopher Regacho, SIS/BA '12, has just been hired by Macfadden. Kyle Contrata, SIS/BA '12, has been hired by NAFSA: Association of International Educators in DC. Danielle Domingos, SIS/BA '12, is working full time at the Marine Biological Laboratory in Mass. Nicholas Dreher, SIS/BA '12, is working full-time for WestEd in San Francisco. Elizabeth Naro, SIS/BA '12, is working at the South African Marine Rehabilitation and Education Center.
David Hong, SIS/BA '12, writes, "I am currently living and working in Seoul. I work full-time as a Research Associate at a government-think tank called the Korea Institute for National Unification (KINU). KINU does research on all matters pertaining to North Korea, inter-Korean relations, and Korean unification."
---
Getting to Know You - Robert Albro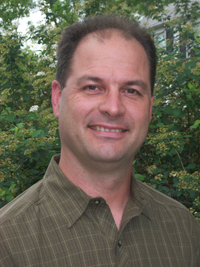 Job Title: Scholar-in-Residence, SIS; and Research Fellow, Center for Latin American and Latino Studies (CLALS), at AU.
Job Duties: While finishing a book manuscript on cultural capacity building across U.S. security agencies, I am also working at CLALS throughout the fall semester to support the center's ongoing programs, in such areas as development and inequality, culture and creativity and democracy and justice.
How long I have worked at SIS: Since the fall of 2007.
What my colleagues would be surprised to learn about me: As a young boy, my mother once made me wear lederhosen to elementary school, with predictable results.
The best part of working at SIS: SIS has extraordinary interdisciplinarity. This disciplinary breadth encourages collegial interaction around non-traditional topics of research and scholarship, such as public and cultural diplomacy in my case.
My first job: My first paying job was as a paperboy. My first wage labor job was in a movie theater during high school. My first "adult" job was as a tenure-track assistant professor in anthropology at Wheaton College in Massachusetts.
Where I grew up: I am one of that rare breed - a local Washingtonian. I was born at Sibley Hospital, just down the road, and lived my childhood next door in Arlington County.
My family: After twenty-five or so years of living elsewhere (Chicago, Bolivia, L.A., Boston), I returned serendipitously to D.C. and currently live in Arlington County again with my wife and three teenage kids (two boys and a girl).
My hobbies: I write a regular blog, which addresses a wide range of issues relating to cultural policy. But I also play a lot of blues guitar.
What I enjoy doing on the weekend: My wife is a foodie locavore. So we typically hit several local farmers' markets. I also try to take advantage to catch up on running and biking.
What I'm reading these days: I just finished plowing through some Evelyn Waugh - British satire always rates high - and just re-read Thomas Pynchon's The Crying of Lot 49. At the moment on my bedside table are novels by Gene Wolfe and Michel Houellebecq.
My favorite book and movie: My favorite movie is, no contest, "The Good, the Bad, and the Ugly." Favorite book: Difficult to choose. Some favorites: Cormac McCarthy's The Road, Saul Bellow's Henderson the Rain King, William Faulkner's Absalom, Absalom! and of course there's always Terry Pratchett.
My favorite D.C. hangout: Hmm... I don't do a lot of hanging out in my current life phase. But once upon a time it was certainly the 9:30 Club.
My favorite food: Well, I make a mean gumbo.
My last vacation: We've gone to Ocracoke Island in North Carolina's Outer Banks since I was a boy. Last summer, we took a driving trip through the Great Lakes, Toronto and environs, including a few days in Tobermory, Ontario. Our next ambitious family trip will probably be across the pond in Spain.
---

Professor Celeste Wallander: opinion piece, "The Good, the Bad, and the Ugly," appeared in Foreign Policy, Dec. 4.
Professor Sharon Weiner: Interviewed in "Obama Sends Warning to Syria, Encouragement to Russia," Kansas City infoZine, Dec. 4.
Professor Robin Broad: Opinion piece, "A Roadmap to the New Economy" (with John Cavanagh), appeared in CounterPunch.org, Dec. 4.
Professor Gordon Adams: Opinion piece, "Demilitarize the CIA" (with Jennifer E. Sims), appeared in The New York Times, Dec. 3.
Professor David Bosco: Interviewed in "Washington Insider Susan Rice Could Face Tough Nomination Battle," Voice of America, Dec. 3.
Professor Philip Brenner: Interviewed in "Three Years After Arrest, American Alan Gross Still Jailed in Cuba," ABC News, Dec. 3.
Professor Gordon Adams: Interviewed in "Defense Cuts No Longer Untouchable," Defense News, Dec. 1.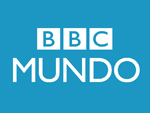 Professor David Bosco: Interviewed in "EE.UU Ante la Nueva Realidad Palestina en la ONU," BBC Mundo, Dec. 1.
Professor Caleb Rossiter: Opinion piece, "How Washington, D.C. Schools Cheat Their Students Twice," appeared in The Wall Street Journal, Nov. 30.
Professor Jeff Colgan: Interviewed in "Senate Approves New Sanctions for Iran Energy, Shipping," Reuters, Nov. 30.
Professor Gordon Adams: Interviewed in "Pentagon Budget Planners Set for Tough Decisions," The Associated Press, Nov. 29.
Professor Gordon Adams: Opinion piece, "Sequester Shadow Play: The Epilogue" appeared in Foreign Policy, Nov. 28.
Professor Gordon Adams: Opinion piece, "Budget Agreement Reached!" appeared in Foreign Policy, Nov. 27.

Professor Robert Pastor: Interviewed in "Mexico Seeks to Recast Relationship with U.S.," The New York Times, Nov. 27.
Professor Asiya Daud: Interviewed regarding unrest in Egypt, WUSA9 (Washington, D.C.), Nov. 27.
Professor Gordon Adams: Opinion piece, "Washington Post Gets it Wrong," appeared in Foreign Policy, Nov. 20.
Professor Mireya Solis: Interviewed in "On Asia Trip, Obama Presses Economic Counter to China," The Washington Post, Nov. 19.
Professor Boaz Atzili: Opinion piece, "Justice as Obstruction in Gaza and Israel," appeared in the blog Political Violence at a Glance, Nov. 19.
Professor Gary Weaver: Opinion piece, "Realism for Obama's Second Term," (with Theodore Couloumbis and Bill Ahlstrom) appeared in Real Clear World, Nov. 18.
Professor Gordon Adams: Opinion piece, "The $68 Billion Question," appeared in Foreign Policy, Nov. 16.
Dean James Goldgeier: Interviewed regarding the November events in Gaza, KSA2 TV (Saudi Arabia), Nov. 16.

Professor Jordan Tama: Opinion piece, "Sorry, Senators. An Independent Panel is the Best Way to Investigate Benghazi," appeared in The Washington Post, Nov. 16.
Professor Jordan Tama: Opinion piece, "Sorry, Senators. An Independent Panel is the Best Way to Investigate Benghazi," appeared in The Washington Post, Nov. 16.
Professor Gordon Adams: Interviewed regarding the militarization of the CIA, CTV News (Canada), Nov 14.
Professor Jordan Tama: Interviewed on the Petraeus scandal, Associated Press Radio, Nov. 12.
Professor Anthony Wanis-St. John: Article, "Impediments to Trade Across the Green Line in Cyprus: The Role of Classic Barriers and Trust," (with O. Gokcekus, J. Henson, and D. Nottebaum) was published in the Journal of Peace Research, vol. 49, no. 6 (November 2012): 863-872.
Professor Robin Broad: Article, "The Development and Agriculture Paradigms Transformed: Reflections from the Small-Scale Organic Rice Fields of the Philippines," appeared in The Journal of Peasant Studies, Oct. 31.
---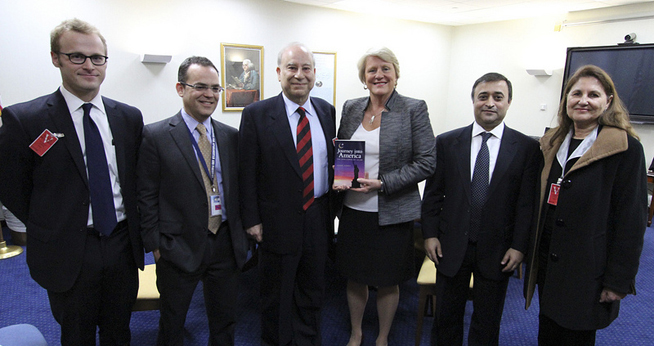 Ibn Khaldun Chair of Islamic Studies Ambassador Akbar Ahmed (c) presented a copy of his book, Journey into America, to Deputy Ambassador Barbara Stephenson at the U.S. Embassy in London. Also present are (l-r) Harrison Akins, Ibn Khaldun Chair research fellow; Eric Geelan, first secretary at the U.S. Embassy in London; Zulfikar Gardezi, deputy high commissioner at the Pakistan Embassy in London; and Zeenat Ahmed. Photo courtesy of the U.S. Embassy in London.
Professor Susan Benesch presented "Anti-Semitism, Islamophobia and the Contours of International Human Rights Law" at Harvard Law School Nov. 28.
Professor Derrick L. Cogburn participated in the symposium "Who Should Govern the Internet?" sponsored by the New America Foundation Nov. 29.
Professor Judith Shapiro's most recent book, China's Environmental Challenges, was reviewed by The South China Morning Post Nov. 18. Reviewer Mark O'Neill called the book "well-researched and balanced." Shapiro also participated in a conference at The New School (N.Y.), "The Environment in India and China: Histories and Innovation" Nov. 30 - Dec. 1.
Professor Quansheng Zhao delivered a lecture, "Changing Leadership in Beijing and The Impact on Chinese Foreign Policy," at the Edwin O. Reischauer Center for East Asian Studies Seminar Series Dec. 6.
Ibn Khaldun Chair of Islamic Studies Ambassador Akbar Ahmed screened his documentary, "Mr. Jinnah: The Making of Pakistan," at Jesus College, Cambridge (England) Nov. 24. The event was sponsored by the Cambridge University Pakistan Society. Jesus College also sponsored a showing and discussion of "Journey into America," the 2010 documentary of Ahmed's trip across the United States to document the Muslim-American experience.
Professor Gordon Adams participated in the Bulletin of the Atomic Scientists' Fourth Annual Doomsday Clock Symposium, "The U.S. National Security Budget" Nov. 29. Adams also spoke at the U.S. Naval Institute Defense Forum's Washington Conference on Dec. 5.
---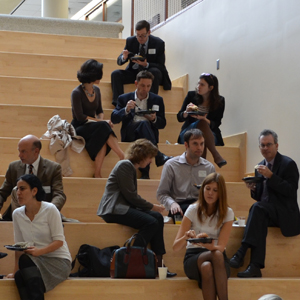 Glenn Hastedt, professor of political science and justice studies at James Madison University, will discuss the politics of the intelligence process Tuesday, Jan. 29 in SIS room 300 from 4 p.m. - 5:15 p.m. The event is free and open to the public.
The International Communication program will host a multicultural alumni panel on Friday, Feb. 8 from 5:30 p.m. - 7 p.m. The event is free and open to the public.
Skills institutes will be occurring on select dates this fall and spring led by practitioners from the Intercultural Management Institute. These weekend-long courses provide both practical intercultural communication skills and theoretical knowledge to professionals working in the international and intercultural spheres, aspiring intercultural trainers, as well as those with interest in training for overseas living. For more information on courses, fees and locations, or to register, visit: http://www.american.edu/sis/imi/institutes/institutes.cfm.