Conference Examines NAFTA
| | |
| --- | --- |
| | Vice President Joe Biden recently called for a new blueprint for North America. With the 20th anniversary of NAFTA approaching, the SIS Center for North American Studies offered a response to Biden's challenge. The center also released a poll revealing that most North Americans want greater integration. Read More. |
Fu Hamabe wins Class of 1967 Award
| | |
| --- | --- |
| | Fu Hamabe, SIS/BA '14, an SIS international student in the Ritsumeikan University dual-degree program, seeks to build understanding between Japan and South Korea. Read More. |
Human Rights: On Film and in Class
| | |
| --- | --- |
| | SIS faculty members are involved in a wide variety of human rights-oriented activities on AU's campus and beyond. Read More. |
Kevin Hagan Wins AU Alumni Award
| | |
| --- | --- |
| | Kevin Hagan, SIS/MA '97, president and CEO of Feed The Children, received AU's Alumni Recognition Award during All-American Weekend. Read More. |
Hip Hop As Cultural Diplomacy
| | |
| --- | --- |
| | First Step Iraq, a hip-hop troop of young men from Iraq, recently danced their way to AU as part of their "Hiplomacy" tour. Read More. |
John Pope is a Good Sport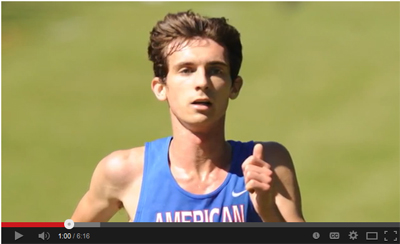 John Pope, SIS/MA '14, a runner for the AU Eagles, is the epitome of a Patriot League scholar-athlete. Watch the Video.
Heartbeat Concert Promotes Peace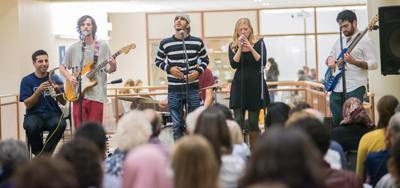 Heartbeat, founded by Aaron Shneyer, SIS/MA '14, includes youth musicians who use music to build trust and understanding. They recently performed at SIS, co-sponsored by the Center for Israel Studies. Read More.
Past Event Highlights
| | |
| --- | --- |
| | Book Launch: V. Spike Peterson, SIS/PhD '88, Professor of International Relations and the University of Arizona School of Government and Public Policy, and J. Ann Tickner, a Distinguished Scholar in Residence at SIS, helped launch SIS Professor Christine Chin's book, Cosmopolitan Sex Workers: Women and Migration in a Global City. Watch the Video. |
Upcoming Event Highlights
Dean's Discussion
Conflict Analysis, Strategy and Engagement: Syria, Honduras, and Burma
Speaker: Frederick Barton, Assistant Secretary of State for Conflict and Stabilization Operations
Date: Monday, November 18
Time: 12:30-1:30pm
Location: Abramson Family Founders Room
Wonkblog Debate Series with The Washington Post's Ezra Klein
Has Climate Change Won?
Date: Tuesday, November 19
Time: 6:00-8:00pm
Location: SIS Atrium
100,000 Strong Foundation Fall Conference:
Investing in U.S.-China Relations, One Student at a Time
Date: Thursday, November 21
Time: 9:30am-3:30pm
This event is invitation-only, but may be live-streamed here.
Building Blocks for Making a Meaningful Difference
Speaker: John Prendergast, SIS/MA '90, Co-Founder of the Enough Project and Satellite Sentinel Project
Date: Monday, December 2
Time: 3:30-4:30pm
Location: Abramson Family Founders Room
French American Global Forum
The United Nations at Seventy: Is Global Governance Broken?
Date: Tuesday, December 3
Time: 7:00-8:30pm
Location: Abramson Family Founders Room
Don't forget to like SIS on Facebook and follow SIS on Twitter!
Spotlight on: Alexa Loken, SIS/BA '10. Read More.
Spotlight on: Hassina Sherjan. Read More.
Esther Benjamin, SIS/MA '92, received the White House Fellow Impact Award for 2013.
SIS alumni toured the National Press Club and will visit the World Bank. Stay up-to-date on alumni news and events. Keep up with your classmates on our Class Notes page.
Rebecca Darnell, SIS/BA '15, won the AU Initiative for Russian Culture's James W. Symington Award for the Study of Russian Language, Culture, and International Relations. Read more.
Kate Brunette, SIS/BA '15, won the Fall 2013 Honors Capstone Research Grant for her project on public transportation in Bogotá, Colombia. Read More.
AU entrepreneurial programs, including the SIS Social Enterprise program, launched a partnership with startup incubator 1776. Read More.