Presidents, Colleagues, Friends and Family Fete Professor Robert Pastor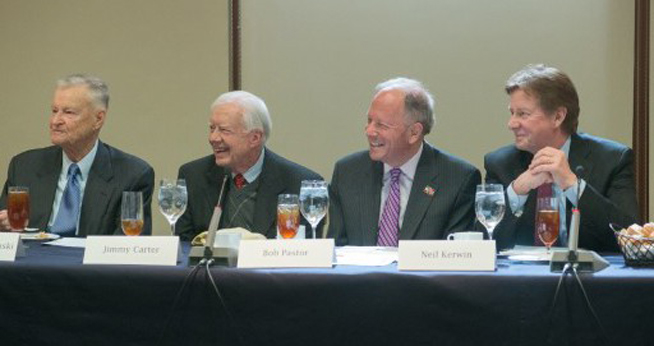 Zbigniew Brzezinski, President Jimmy Carter, Professor Robert Pastor and AU President Neil Kerwin at the March 5 event honoring Pastor.
Longtime friends, colleagues and family, including former President Jimmy Carter, former national security advisor Zbigniew Brzezinski and AU president Neil Kerwin, surprised Professor Robert Pastor on Tuesday, March 5 at an event organized to honor Pastor for his 40 years of contributions to public policy as a scholar, public intellectual and government official. Read more.
---
MORE HEADLINES - 3/14/2013
Presidents, Colleagues, Friends and Family Fete Professor Robert Pastor (cont.)
U.S., Mexican and Canadian Dignitaries Discuss Democracy, Elections and Human Rights
International Politics Program to Focus on Governance and Security
University Library to Launch Peace Corps Archive at SIS Symposium
New Zealand Ambassador Speaks to Students
Embassy of India Hosts Friends of the School of International Service
Learn More about the SIS Online Degree
SIS To Remember Dean William Olson
Photos of the Week
---
Presidents, Colleagues, Friends and Family Fete Professor Robert Pastor (cont.)
A closely closeted contingent plotted the event in secret for over a year. SIS Professor Philip Brenner and University Chaplin Joe Eldridge conspired with Mrs. Margaret Pastor, SIS events coordinator Kristi-Anne Caisse, Jennifer McCoy, director of the Carter Center's Latin American Program and a cadre of secret service officials to pull off the surprise luncheon and panel discussions. Mrs. Rosalynn Carter, and most of Pastor's family - his children and siblings - traveled from across the country to pay tribute to him and tease him gently.
It wasn't easy, said Margaret Pastor, who had to wrench his friends' contact information from the professor, "Bob's control of information is tighter than the CIA." Dean James Goldgeier said he'd never witnessed such secrecy - "Joe [Eldridge] and Phil [Brenner] spoke in a whisper about the event even in my office."
AU President Neil Kerwin disagreed. "I can't think of a piece of information that Bob's held tightly when he wanted me to see it," said Kerwin. He described Pastor's impressive body of work, including: publishing 27 books, founding the Center for North American Studies and the Center for Democracy and Election Management at AU, and as university vice president, establishing the American University of Nigeria, and initiating new programs on language immersion and "Abroad at AU." Pastor also served in government as National Security Advisor for Latin America, and he was a Senior Fellow and director of programs on democracy, Latin America, and China at the Carter Center.
Goldgeier described Pastor as, "an idea machine. The other word I'd use to describe him is relentless. That man is relentless in pursuit of those ideas. You have to appreciate his passion."
Jimmy Carter, 39th president of the United States, said Pastor's contributions were remarkable, but he wasn't always convinced they would be.
"My original encounter with Bob was not pleasant," said Carter. He said entering his presidency, the country faced serious problems with Latin American - especially Cuba after a 25-year embargo. He asked his National Security Advisor, Zbigniew Brzezinski, to get the best person he could find to be his assistant on Latin American issues. Then, said Carter, "He brought in this child." Pastor was 28 years old at the time.
Carter said by the time he left office the U.S. had a peace treaty with Panama, and many Latin American countries such as Ecuador, Peru, Chile, Argentina, Uruguay, Paraguay, etc. - had transformed from dictatorships to democracies, "…because of the human rights policy Bob urged me to pass."
Describing the origins of his global, election-monitoring efforts with Pastor, Carter said Pastor went to China and came back suggesting they monitor "650,000 elections in as many Chinese villages. We did it." Pastor played a critical role in crises in Panama and Haiti, and for his knowledge and service, President Clinton nominated Pastor as the U.S. Ambassador to Panama. President Carter noted with regret that his fourth cousin, Sen. Jesse Helms (R-NC), who was chair of the Senate Foreign Relations Committee, successfully blocked Pastor's appointment.
"Bob induces people around him to reach beyond themselves, and I'm thankful that Bob has helped me reach beyond myself," said Carter.
Brzezinski echoed President Carter in his description of Pastor; but he added the adjectives "persistent, even obnoxious," with obvious admiration, to the oft mentioned "relentless," used to describe the professor and diplomat.
Brzezinski said asking this "child" to join his staff set off "shock waves," but later the treaty with Panama was a moment of triumph. "The time was right for fundamental change in U.S.-Latin American relations," he said, explaining his goal with Pastor's help was to establish "a pattern more symmetrical to our relationship with Europe and other parts of the world."
Rosalynn Carter proffered another perspective on one of her favorite people with a gentle ribbing.
"When I first got to know Bob, Jimmy had called him in and said, 'Bob, I need someone to go to Latin America and explain my policy." He watched his face light up, only to droop as Carter finished his message. "I want you to accompany my wife." She said his face went from "chance of a lifetime" to "saddled with the first lady," in no time.
Pastor expressed his gratitude to the Carters, saying that they were like second parents to him and adding that, "They raised the country and the world to heights I hadn't anticipated." He responded to the tributes and teases of his friends and colleagues with delight. "I'm overwhelmed to see people came from all over - across the country even Mexico and Toronto - not to mention Capitol Hill!"
---
U.S., Mexican and Canadian Dignitaries Discuss Democracy, Elections and Human Rights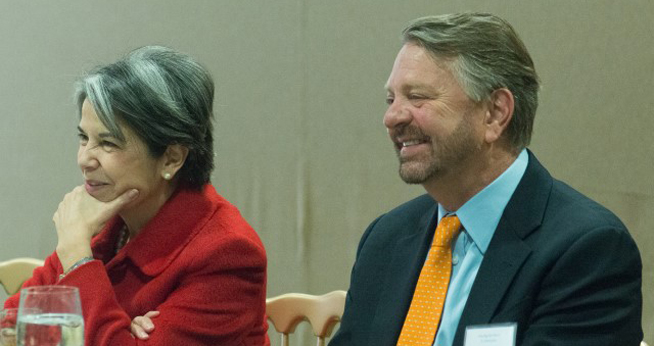 Panelist Jorge Castañeda, former foreign minister of Mexico, shares a laugh with Maria Otero, former undersecretary of state for Civilian Security, Democracy and Human Rights.
Speakers addressed the issues of reforming election protocols in Mexico, the need for strong leaders to overcome political polarization within North America, and the importance of Canada, Mexico and the United States working together more closely in two panel discussions that followed a luncheon honoring SIS Professor Robert Pastor on March 5.
The two panel discussions were: "Democracy, Elections and Human Rights" and "The North American Community." Participants included: Assistant Secretary of State for Democracy, Human Rights, and Labor, Mike Posner; former Foreign Minister of Mexico Jorge Castañeda; former Prime Minister of Canada the Right Honorable Joe Clark; and former President of Panama Nicolas Ardito-Barletta.
Professor Abe Lowenthal of the University of Southern California said, "We need to recognize the importance of Mexico and our shared interests and responsibilities without generating dependence and instability. How can we train the future leaders of these countries?"
Speaking on the lack of cooperation between the U.S. and Canada, Professor Stephen Clarkson of the University of Toronto said, "The U.S. is building walls - electronic, bureaucratic and economic walls, so it's harder for goods to cross through."
While the political opinions of the experts differed, all speakers began their remarks with praise of Pastor and his scholarship, and they all agreed with Lowenthal, who said that Pastor, "thinks creatively, tenaciously and frankly. He has contributed immensely to academics."
---
International Politics Program to Focus on Governance and Security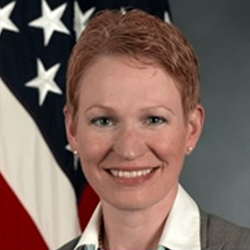 Professor Celeste Wallander
The International Politics program will change its name to the Global Governance, Politics and Security program (GGPS) effective fall 2013.
In her proposal to SIS's Graduate Studies Committee, International Politics Program Director Celeste Wallander explained the name change: "One of SIS's comparative advantages as a scholarly and service community is our multidisciplinary approach to understanding relations among and beyond states and societies on the global stage - beyond the traditional approaches of schools of international politics."
While most program requirements will remain the same, the curriculum's framework will change to mirror the program's new name. GGPS students will be required to take four core courses: Global International Relations Theory, History of Global Politics, Foundations of Global Governance and Foundations of Global Security.
In addition, rather than four areas of study (currently International Security, International Organization, Human Rights and Transnational Crime and Corruption), the program will offer two areas of focus: Global Security and Global Governance.
"The name change better reflects the direction that the International Politics program is taking," said Associate Dean of Faculty Affairs and Graduate Education Tamar Gutner. "As the number of SIS courses in security and governance grows, it made sense to readjust the focus of the program."
Wallander said, "In re-shaping our GGPS curriculum and requirements, we believe that we will prepare our students better, align the GGPS program better with the other SIS programs and put SIS on the map in defining multidisciplinary scholarship and teaching in global affairs."
---
University Library to Launch Peace Corps Archive at SIS Symposium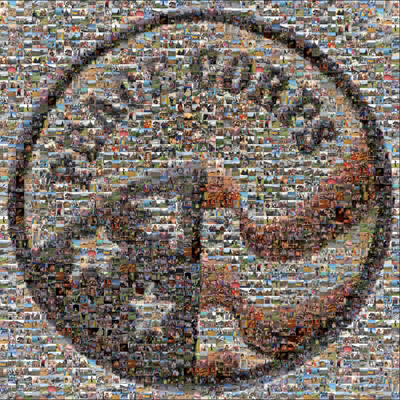 The AU Alumni Association, SIS and the University Library will sponsor a special program, "Waging Peace Through a Lifetime of Service," to celebrate the launch of the University Library's Peace Corps archive Thursday, March 21 from 4:30 p.m. - 8:30 p.m.
The event will include an interactive symposium featuring presentations by AU community members - faculty, students and alumni - whose lives have been enriched by the Peace Corps. Scheduled speakers include Esther Benjamin, SIS/MA '92, CAS/MA '95, the associate director for global operations at the Peace Corps, Congressman Sam Farr (D-CA) and AU University Librarian Nancy Davenport.
"AU is strengthening its ties with the Peace Corps," said Associate Director of Alumni Relations for SIS Stephanie Block. "We encourage the many returned Peace Corps volunteers in the SIS community - faculty, staff, students and alumni - and anyone interested in the new Master's International degree, [which integrates graduate study at the School of International Service (SIS) and United States Peace Corps service into a single program], to attend this special event."
To register, please visit the event page. Follow the event on social media through #AULifetimeOfService.
---
New Zealand Ambassador Speaks to Students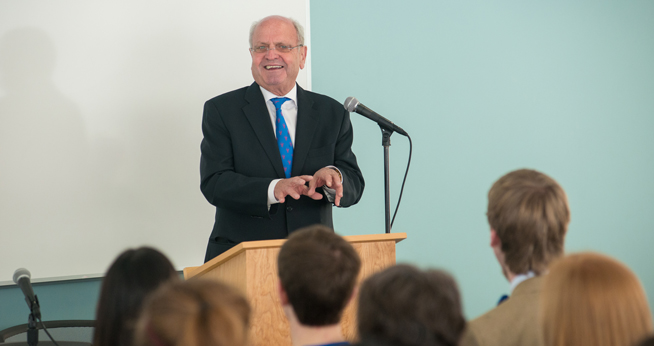 New Zealand Ambassador Mike Moore discusses globalization and multilateralism on March 5.
Ambassador Mike Moore of New Zealand visited SIS Tuesday, March 5 to discuss trade patterns and globalization with the three-year B.A. Global Scholars students.
Moore discussed his own political history and the country's economic past and future candidly. "The best thing I did for New Zealand - certainly the most popular - was leave," he said.
New Zealand's technological profile is rising, Moore said. "Don't think of New Zealand as a place of dead sheep." However, agriculture is still a primary source of income, and with more efficient use of water and farming, the country also has turned to the wine industry, which Moore described as "extremely competitive."
From 1999 - 2002, Moore was the Director-General of the World Trade Organization, and much of his talk focused on New Zealand as part of the world's economy and the country's interest in globalization.
"It [globalization] shouldn't be idealized or demonized," said Moore. "It's a process that's been going on since man stood upright and looked over the hill. It's a constructive thing. It can't be stopped, because it is what our species is about."
He said that globalization and competition are useful tools for bringing the world's economies together.
"Competition drives out the bad guys," said Moore. "The more competition you get into an economy, the more open it is, and the more successful it'll be. Every indicator shows that globalization is not only a human rights good, but a moral good. How do we get another one to two billion people into the global economy and not lock them out? They're not just consumers - they're producers and they're citizens."
Moore previously served as a Labour Prime Minister of New Zealand. He also served as the country's Deputy Minister of Finance, Minister of Overseas Trade and Marketing, and as a Member of Parliament.
---
Embassy of India Hosts Friends of the School of International Service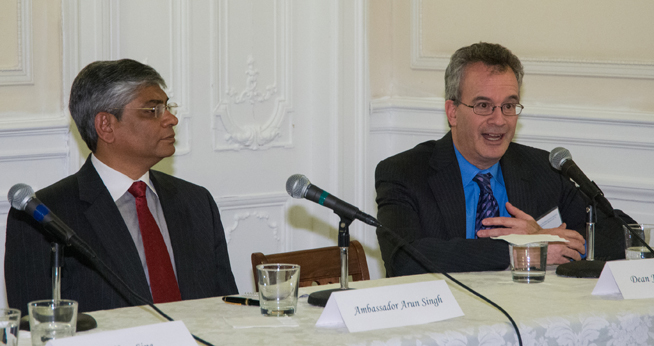 Dean James Goldgeier speaks during the program as the Embassy of India's Deputy Chief of Mission Arun Singh looks on.
The future of the world's largest democracy and its relationship with the United States were debated during a discussion and dinner at the Embassy of India on Feb. 20. The event featured SIS Dean James Goldgeier, AU Board of Trustees Chair Jeffrey Sine and the Embassy's Deputy Chief of Mission, Arun Singh, a former ambassador of India to Israel.
The trio debated India's future growth, willingness to open its markets to greater foreign direct investment and the future of India's higher education system. In addition, Goldgeier addressed the Obama administration's foreign policy plans during its second term, including the administration's interests in reducing nuclear arsenals around the world.
The program also featured two current students of the School of International Service, Noah Kowalski, SIS/MA '13, and Priyanka Srinivasa, SIS/BA '14, who discussed how their studies of India and South Asia have contributed to their current work and future career planning.
The impetus for the Indian embassy discussion as well as an increase in South Asian studies and programming at the SIS comes from Scholar-in-Residence Maina Chawla Singh, who has organized campus events at American and Georgetown Universities on contemporary India, Indian diaspora communities, Indian Jews and India-Israel Relations in recent years. Singh has lectured widely at international institutions, including Oxford, Cambridge, Yale, Cornell, Michigan, Indiana, Brandeis and at the Library of Congress.
Other university officials in attendance included AU President Neil Kerwin, Provost Scott Bass, and deans of the Kogod School of Business and College of Arts and Sciences Michael Ginzberg and Peter Starr, respectively, as well as members of the AU Board of Trustees and SIS Dean's Council.
---
Learn More about the SIS Online Degree
Discover International Relations Online, the newest Master's degree from SIS. This innovative, online program provides students with a strong foundation in the field of international relations, as well as the chance to gain professional skill sets and specialized expertise through concentrations in Sustainable International Development and Global Security, and Conflict Resolution. Students from around the world will meet weekly with classmates and SIS professors in small, interactive virtual classrooms for live coursework discussions. Watch to learn more.
---
SIS To Remember Dean William Olson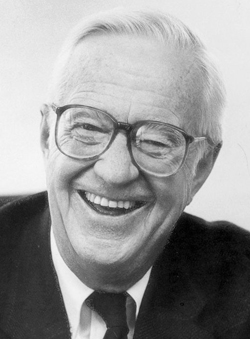 American University will honor former SIS Dean William Olson at a memorial service at the Kay Spiritual Life Center from 2:30 - 3:30 p.m. Wednesday, April 10. A reception will follow in the SIS Abramson Family Founders Room from 3:30 - 5:00 p.m. We hope you can attend to pay tribute to a man who was a remarkable figure in international studies - one of the pioneers in our field. His impressive legacy at SIS embraced the operative value in our school's name - service. We featured Dean Olson's life and career in a previous issue of the SIS Newsletter.
If you would like to share a memory of Dean Olson, please e-mail sisalum@american.edu. Your thoughts may be shared with the Olson family.
RSVP for the memorial here.
---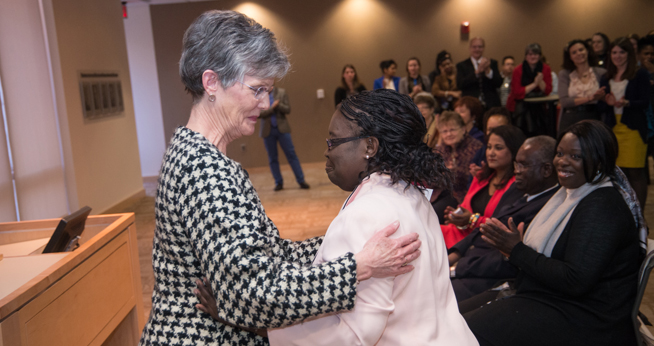 Vice President for Campus Life Gail Hanson (l) and other University officials honored Professor Fanta Aw (r) Feb. 25 for her work with students and recent election as President and Chair of the Board of Directors of NAFSA: Association of International Educators.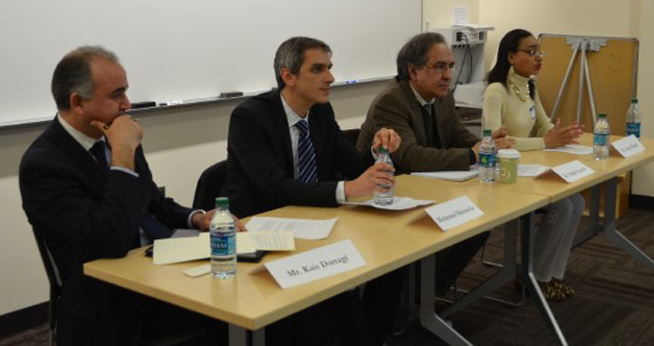 Professor Asiya Daud and the Middle East/North Africa club hosted a panel, "The Political Crisis in Egypt and Tunisia" Feb. 28. Speakers included (from left to right) Dr. Kais Darragi, a political counselor at the Embassy of Tunisia; Mohamed Malouche, president of Tunisian-American Young Professionals; Dr. Nejib Ayachi, president of The Mahgreb Center and Professor Daud.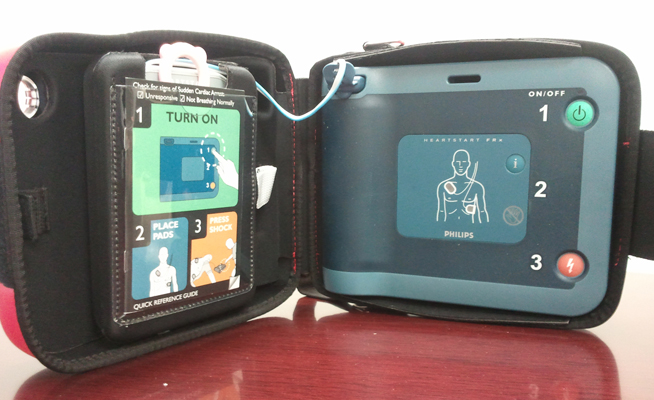 AU's Department of Public Safety recently installed a defibrillator in the SIS lobby. The medical devices have been placed in 15 buildings across campus and in all Public Safety vehicles. "The American Heart Association estimates that roughly 50 percent [of people in a cardiac episode] could survive an arrest with prompt and proper treatment," said AU's Assistant Vice President of Risk Management and Safety Services Pat Kelshian.
---
Alumni, we need your help! We are in the planning stages of creating the most exciting reunion weekend ever, and there is something missing - you!
Building excitement among fellow alumni, inviting friends back to campus and encouraging attendance for class events are just a few of the important duties of class committee members.
This year, we are celebrating the anniversaries of the classes of 2003 and 2008.
As a member of the reunion planning committee, you can play an important role in shaping your class reunion experience. Volunteering to help with your reunion is also a great way to reconnect with AU and the friendships that began here on campus.
To find out more about becoming a reunion committee volunteer or to sign up, please click here.
Calling all alumni: Have you moved or changed jobs? Be sure to update your information to ensure you continue to receive AU and SIS news, information and volunteer opportunities.
Class Notes
We invite readers to send comments to SISComm@american.edu. Please include your graduation year and degree.
Randall Swope, SIS/BA '80, joined Gimbel and Associates as senior consultant for Emerging Markets.
Heather Handyside, SIS/BA '92, has been hired as press secretary for Senator Mark Begich (D-AL).
Carl Meacham, SIS/MA '97, has been named head of the Americas Program at the Center for Strategic and International Studies.
Emily Reitan, SIS/MA '00, was recently promoted to assistant vice president of Strategy and Business Development at Allianz Life.
---
Getting to Know You - Tamar Gutner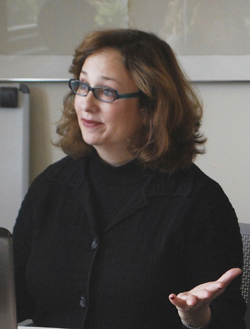 Job Title: Associate Dean for Faculty and Graduate Education
Job Duties: I support the Dean in leadership and oversight for faculty affairs and graduate affairs (M.A. and Ph.D. degrees). I also oversee graduate advising.
Tenure at SIS: 13 years.
My colleagues would be surprised to learn: I was a financial journalist for AP-Dow Jones based in New York and London before I began my Ph.D.
The best part of working at SIS: That's easy - the people. I am lucky to have incredible colleagues who care so much about the School, and I really enjoy working together to make SIS as excellent as possible. I also really enjoy my students, and remain in touch with many long after they have graduated. I'm very proud of their accomplishments.
First job: I worked at a hot pretzel store in the food court of a mall in Northbrook, Ill. one summer during high school. It was actually a difficult job! My second job was also a bit unusual. I was a runner on the Chicago Mercantile Exchange. I learned all about things like commodity futures in frozen pork bellies.
Where I grew up: In a suburb of Chicago called Glenview, Ill.
I'm reading: I like to read science fiction, and I'm reading The Hermetic Millennia by John C. Wright.
Favorite books and movie: I have two favorite books. One is Fritz Stern's Gold and Iron, which tells the story of 19th-century Germany through the lens of Bismarck's relationship with his banker. It's about power, politics, political economy, friendship and more. The other is Leak, by Max Holland, who also happens to be my husband. It's a gripping tale about why Mark Felt was motivated to become the famous secret source in the Watergate scandal. It's about power, politics and the media in Washington, D.C.
For a movie, how about "part of a movie?" Fred Astaire's famous ceiling dance in "Royal Wedding." You can watch it on YouTube.
Hobby: Tap-dancing. It is possible to do a very subtle walking riff across the atrium. Hopefully, no one notices.
Next vacation: I'm taking my daughter to London for spring break. I've only been there a few times since I worked there more than 20 years ago, so it will be a lot of fun to show her around.
---

Distinguished Economist-in-Residence Arturo Porzecanski: Interviewed in "Bondholders and Mexico Glass Maker Reach Deal," The New York Times' Dealbook, March 4.
Professor Gordon Adams: Opinion piece, "26 Days Later," Foreign Policy, Feb. 28.

Ibn Khaldun Chair of Islamic Studies Ambassador Akbar Ahmed: Cited in "Neo-Imperialism and the Arrogance of Ignorance," Time, Feb. 27.
Professor Manuel Suarez-Mier: Interviewed in "Mexico's Strengthening Economy Could Bode Well for Immigration Reform," Fox News Latino, Feb. 26.
Professor Robert Pastor: Interviewed in "Helms-Burton Law Has a Lot of Requirements for Normalizing U.S. Relations with Havana," The Miami Herald, Feb. 25.
Professor Ji-Young Lee: Interviewed in "Disputes in Asia Pose Challenge to Obama," The Washington Times, Feb. 25.
Ibn Khaldun Chair of Islamic Studies Ambassador Akbar Ahmed and Ibn Khaldun Chair Research Fellow Frankie Martin: Opinion piece, "The Kabyle Berbers, AQIM and the Search for Peace in Algeria," Al-Jazeera, Feb. 24.

Professor Gordon Adams: Opinion piece, "How Like the Services...," Foreign Policy, Feb. 20.
To see more SIS media appearances, please visit our SIS in the Media page.
---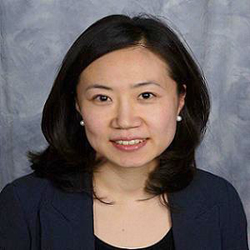 Professor Ji-Young Lee has been named one of 10 Korea-Foundation-Mansfield Foundation Scholars to participate in the U.S.-Korea Scholar-Policymaker Nexus.
Professor Daniel Gerstein will publish a book, National Security and Arms Control in the Age of Biotechnology: The Biological and Toxin Weapons Convention, in May 2013 (Routledge).
Professor Matthew Taylor presented his article, "Corruption and Accountability in Brazil," to a workshop on "Democratic Brazil Ascendant" at Oxford University and King's College London in February.
Professor Garrett Graddy recently published "Regarding Biocultural Heritage: In Situ Political Ecology of Agricultural Biodiversity in the Peruvian Andes" in the Journal of the Agriculture, Food, and Human Values Society (Jan. 30, 2013). Graddy was also awarded the SIS 2013 Conference Travel Award to travel to three conferences: the International Studies Association (in San Francisco), Dimensions of Political Ecology (in Kentucky) and the Association of American Geographers (in Los Angeles). Graddy will be traveling to Peru during the winter of 2013 using the University's International Travel Award.
Professor Loubna Skalli-Hanna's panel "Youth Politics and Employability in Morocco" was streamed live on Feb. 13 from Rabat, Morocco. The conference was called "Youth, Gender and Employability in the Arab World." Professor Skalli-Hanna also guest edited a special issue of Middle East Journal of Culture and Communication: Youth, Media and the Politics of Change in North Africa Negotiating Identities, Spaces and Power.
Professor Judith Shapiro's book, China's Environmental Challenges, was critiqued in Australia's Inside Story.
Ibn Khaldun Chair of Islamic Studies Ambassador Akbar Ahmed's book, The Thistle and the Drone: How America's War on Terror Became a Global War on Tribal Islam was reviewed on Dawn.com (Pakistan). Reviewer Malik Siraj Akbar wrote, "The Thistle and the Drone will hopefully initiate an earnest debate about tribal people whose lives have been shaken simultaneously by drone attacks, belligerent federal governments and armed insurgent groups." The book was excerpted in The Washington Post Feb. 27.
---
Ibn Khaldun Chair of Islamic Studies Ambassador Akbar Ahmed will launch his book, The Thistle & the Drone: How America's War on Terror Became a Global War on Tribal Islam at the Brookings Institution Thursday, March 14 from 3 p.m. - 5 p.m. While the event is free and open to the public, please register on the Brookings website.
Ambassador Houda Nonoo of Bahrain will speak on "Women's Political Participation in the Arab World" Monday, March 18 from noon - 1:30 p.m. in the Mary Graydon Center Room 5. Lunch will be provided. The event, sponsored by the Middle East/North Africa Roundtable Club, is free and open to the public
Professor Michael L. Ross of the University of California, Los Angeles will lecture on "Natural Resources and Conflict: A Glimpse into the Future?" Tuesday, March 19 from 2:30 p.m. - 4:30 p.m. in the SIS Abramson Family Founders Room. The event is part of the inaugural Al Moumin Lecture on Environmental Peacebuilding, and it is free and open to the public.
Also on Tuesday, March 19, Ambassador José Ramón Cabañas of Cuba will speak on "Updating the Revolution" from 4 p.m. - 5:30 p.m. in SIS 300. Cabañas has previously served as the Cuban Ambassador to Austria. The event is free and open to the public.
AU will host a graduate open house for all programs Wednesday, March 20 in the first floor rotunda of the Katzen Arts Center. The event is free and open to the public.
SIS will host the DC Environmental Film Festival Monday, March 18 at 7 p.m. in the SIS Abramson Family Founders Room. The event will be introduced by SIS Professor Ken Conca, and the film, "Shark Loves the Amazon," will be followed by a Q&A with Mark London (writer, producer), Cidney Hue (co-director, co-editor) and Adrian Vasquez de Velasco (co-director, co-editor). The event is free and open to the public.
Join SIS for the 16th Annual SIS Undergraduate Research Symposium Wednesday, March 20 in the SIS Abramson Family Founders Room from 3 p.m. - 9 p.m. The symposium is free and open to the public.
SIS Dean James Goldgeier and School of Communication Dean Jeffrey Rutenbeck will co-host a screening of "Dr. Strangelove or: How I Learned to Stop Worrying and Love the Bomb" Tuesday, March 26 in the Wechsler Theater in the Mary Graydon Center Room 315. Refreshments will be served at 6:30 p.m., and the screening will be from 7 p.m. - 9 p.m. A question and answer session will follow. The event, which is free and open to the public, is part of AU's JFK 50th Anniversary celebration.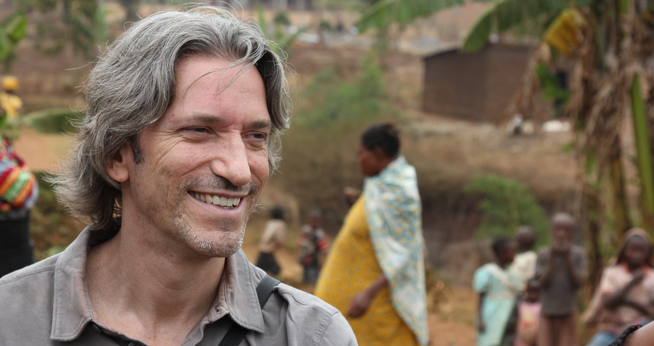 John Pendergast, SIS/BA '90, the 2012 SIS alumnus of the year and co-founder of the Enough Project, will participate in a Dean's Discussion with Dean James Goldgeier Monday, April 1 at 3 p.m. in the SIS Abramson Family Founders Room. The discussion will be followed by a question and answer session with the audience. While the event is free and open to the public, it will also be streamed live.
CEO of the Chilean business group GasAtacama, Rudolf Araneda, will discuss how new types of energy markets can enhance sustainable development and regional economic integration on Thursday, March 28 at 6:00 p.m. in the Kogod Student Lounge. A reception will follow. While the event is free and open to the public, seats are limited. Please RSVP at www.kogod.american.edu/energy.
Ibn Khaldun Chair of Islamic Studies Ambassador Akbar Ahmed will launch his book, The Thistle & the Drone: How America's War on Terror Became a Global War on Tribal Islam Tuesday, April 9, from 1 p.m. - 3 p.m. in the SIS Abramson Family Founders Room. Beginning with Waziristan and expanding to tribal societies in Central Asia, the Middle East, North Africa and elsewhere, Ahmed presents an unprecedented paradigm for understanding and winning the war on terror. The event is free and open to the public.
American University will honor the late SIS Dean William Olson at a memorial service at the Kay Spiritual Life Center from 2:30 - 3:30 p.m. Wednesday, April 10. A reception will follow in the SIS Abramson Family Founders Room. Learn more about the service, which is free and open to the public, on the Alumni Association website.
Etel Solingen, Chancellor's Professor of political science at the University of California Irvine, will discuss "Dominoes and Firewalls: The Politics of Transnational Diffusion" as part of the International Relations Research Theory Workshop on Tuesday, April 16, from 10:30 a.m. - 2 p.m. in the SIS Abramson Family Founders Room. The event, sponsored by the International Politics program, is free and open to the public.
The SIS Film Series will debut Thursday, April 18 with a film from the Irish Embassy, "Men of Arlington" in the SIS Abramson Family Founders Room. Refreshments will be served at 6 p.m., and the film will begin at 6:30 p.m. The event is free and open to the public; please RSVP here.
Professor Jeff Colgan will launch his book, Petro-Aggression: When Oil Causes War on Monday, April 22 in the SIS Abramson Family Founders Room from noon - 2 p.m. The event is free and open to the public.