Remembering Professor Robert Pastor
| | |
| --- | --- |
| | "Because of his vision, boundless energy, and political skill, the Western Hemisphere is more democratic and developed today." - President Jimmy Carter. Read More. |
Geoengineering: Science Fiction or Fact?
| | |
| --- | --- |
| | The risks, rewards, and controversies of geoengineering are explored by the Washington Geoengineering Consortium, a collaboration between professors Simon Nicholson of SIS and Wil Burns of Johns Hopkins University. Read More. |
SIS Student Benefits from Research Support
| | |
| --- | --- |
| | SIS Ph.D. student Kia Hall (pictured here with Professor Cornel West of Princeton) recently had an article accepted for publication with a top journal in her field. The funding and support she received from SIS and AU were critical to her success. Read More. |
| | |
| --- | --- |
| | Germany used to be considered the economic "sick man" of Europe. SIS Associate Professor Stephen Silvia describes in his new book, Holding the Shop Together: German Industrial Relations in the Postwar Era, how Germany is now praised for withstanding the global financial crisis. Read More. |
Acharya Meets With Indonesian President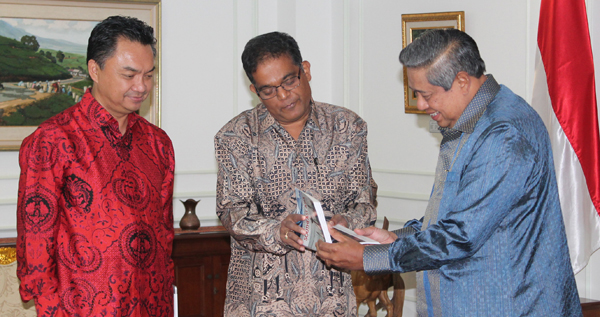 SIS Professor Amitav Acharya (pictured in the center with the Indonesian Ambassador to the United States Dino Patti Djalal) presented his book, The Making of Southeast Asia: International Relations of a Region, to Indonesian President Susilo Bambang Yudhoyono in Jakarta on January 15.
MLK Day Of Service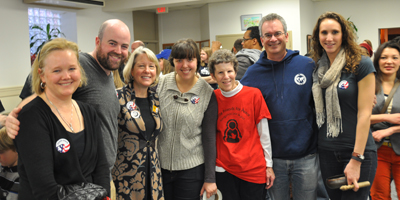 The SIS Peace Corps Fellows Program co-organized a Martin Luther King Jr. day of service celebrating the theme, "Know Your Neighbor." SIS Dean Jim Goldgeier joined Peace Corps Acting Director Carrie Hessler-Radelet and others to remember Dr. King's messages of service, community, and peace.
| | |
| --- | --- |
| | SIS Associate Dean Patrick Thaddeus Jackson's book, The Conduct of Inquiry in International Relations: Philosophy of Science and its Implications for the Study of World Politics, won the International Studies Association Theory Section Best Book Award. |
| | |
| --- | --- |
| | SIS Professor Christine Chin's book, Cosmopolitan Sex Workers: Women and Migration in a Global City, was designated an Honorable Mention by the Ethnicity, Nationalism, and Migration Distinguished Book Award Committee of the International Studies Association. |
| | |
| --- | --- |
| | SIS Professor Akbar Ahmed's book, The Thistle and the Drone: How America's War on Terror Became a Global War on Tribal Islam, was awarded the German Peace Prize at the Karachi Literature Festival. It was also short listed for the Coca Cola Best Non-Fiction book at the Festival. |
Past Event Highlight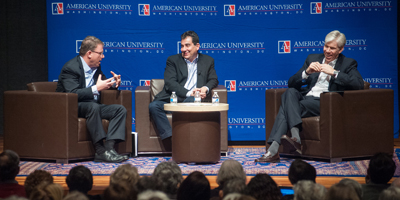 AU's Center for Israel Studies and SIS cohosted an event about Israel with Israeli journalist Ari Shavit and Jeffrey Goldberg of The Atlantic, moderated by David Gregory, SIS/BA '92, of NBC's Meet the Press.
Upcoming Event Highlights
Dean's Discussion
The Dispensable Nation: American Foreign Policy in Retreat
Speaker: Vali Nasr, Dean, School of Advanced International Studies,
The Johns Hopkins University
Date: Thursday, February 13
Time: 3:30-4:30pm
Location: Abramson Family Founders Room
Democratic Transformations in Iraq
Speaker: Lukman Faily, Ambassador of Iraq to the United States
Date: Tuesday, February 18
Time: 3:00-5:00pm
Location: Butler Board Room
Uruguay and Human Rights in the 21st Century
Speaker: Luis Almagro, Minister of Foreign Affairs, Uruguay
Date: Tuesday, February 18
Time: 5:00-6:30pm
Location: SIS Atrium
Dean's Discussion
Civilian Security in Today's World
Speaker: Mario Otero, former Under Secretary of State for Civilian Security, Democracy, and Human Rights
Date: Thursday, March 6
Time: 3:30-4:30pm
Location: Abramson Family Founders Room

15th Annual IMI Conference
Keynote Speakers: Rosiland Jordan, Al Jazeera English, and Moisés Naím, Carnegie Endowment for International Peace
Date: March 13-14
Register
Sponsored by the International Management Institute
Stay connected: like SIS on Facebook and follow SIS on Twitter.


SIS mourns the loss of Ph.D. student Adel Ait-Ghezala, SIS/MA '04. "His loss is incredibly tragic, as we cannot help but think of the wonderful things he would accomplish after graduation and throughout his life." - Dean Jim Goldgeier

Congratulations to SIS Professor Derrick Cogburn who was named to the High-Level Multistakeholder Committee of the Global Multistakeholder Meeting on the Future of Internet Governance (NETMundial).
Alumni
Nominate an SIS alumnus/a for the 2014 SIS Alumni of the Year award! Alumni will receive information about the awards presentation soon.
Spotlight: Georgia State Attorney General Sam Olen, SIS/BA '78; SIS/MA '80.
Spotlight: Ben Edgar, SIS/MA '11.
Spotlight: Mariel Verdi, SIS/BA '07; SIS/MA '10.

To hire an AU student or alumnus/a for a job or internship with your organization, contact Alumni Career Programs Coordinator Pat Oltmann.

Stay up-to-date on alumni news and events. Keep up with your classmates on the Class Notes page.
SIS in the News