Acharya Elected President of International Studies Association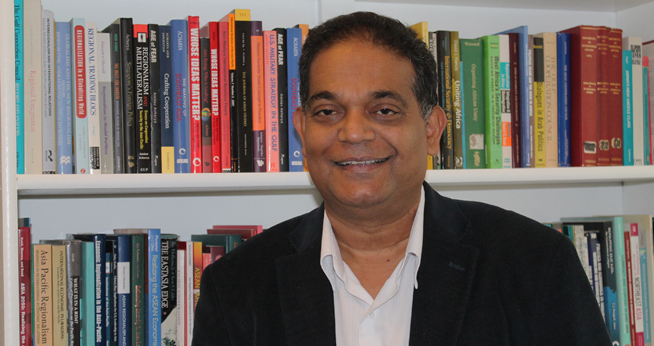 Professor Amitav Acharya has been elected the 2014 - 2015 president of the International Studies Association (ISA).
With three years to serve on the ISA executive board as president-elect, president and past president, Acharya will promote inclusivity and work to increase ISA's international presence.
---
MORE HEADLINES - 2/12/2013
Acharya Elected President of International Studies Association (cont.)
Peace Corps Ranks AU #2 for Most Volunteers
SIS Alumna Explores the World and Its Food
Private and Public Sector Programs Assist with SIS Tuition
SIS Buzzes About Bee Video
Visiting Scholar Revisits D.C.
Photo of the Week
---
Acharya Elected President of International Studies Association (cont.)
"My first goal is for the ISA to be truly global and inclusive, with no marginalization," said Acharya. "I will try to give more subsidies to participants from countries that have never attended ISA. Asians are beginning to come, and Indians and Singaporeans, but not many Latin Americans or Africans. I want to see if we can increase participation from those areas, cultivate more long-term associations and set aside some funding for them to attend."
Fittingly, Acharya was abroad when he learned of his nomination.
"I was flying with my family from my hometown in India to Kolkata, and then we were going on to Bangkok for the flight to Washington, D.C.," said Acharya. "I turned on my BlackBerry in Kolkata, and I saw a message from the chair of the nominating committee, saying 'Congratulations, you've been nominated.' I had absolutely no clue that I'd been nominated - it was a total surprise."
The support of AU officials, including SIS Dean James Goldgeier and AU Senior Vice Provost and Dean of Academic Affairs Phyllis Peres, was crucial to Acharya's acceptance of the nomination.
"Amitav Acharya is one of the top scholars of international relations in the world, and his election as ISA president is wonderful news for the association and for the school," said Goldgeier. "His broad and deep global experiences make him ideally suited to lead ISA."
In addition to his goal of diversifying the ISA population, Acharya plans extensive travel - to visit regional ISA meetings in India and throughout Latin America and to organize a conference in Africa.
"If I hadn't come to AU, I wouldn't have become the president, because I wouldn't have had the opportunity to network," said Acharya. "I was given a home in a stimulating place. Being at American since 2009 has helped me build my credentials with a group of supportive people. It's tremendous."
Acharya, the current president of the SIS faculty, is the third member of the SIS community to act as ISA president. Distinguished Scholar-in-Residence J. Ann Tickner served from 2006 - 2007 and the late William Olson, dean of SIS from 1980 - 1986, held the post from 1968 - 1969. The International Studies Association was founded in 1959 to promote research and education in international affairs.
---
Peace Corps Ranks AU #2 for Most Volunteers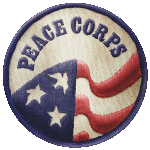 Last week, the Peace Corps ranked AU second among medium-sized universities for the number of graduates who serve. Last year, 63 AU alumni entered the Peace Corps, and more than 800 alums have served since President John F. Kennedy created the organization in 1961. AU partners with the Peace Corps on three Master's programs: TESOL, Public Anthropology and an SIS offering that combines Peace Corps service with graduate studies. SIS also hosts the Peace Corps Fellows Program for Returned Peace Corps Volunteers. For more information about the school's relationship with the Peace Corps, click here.
---
SIS Alumna Explores the World and Its Food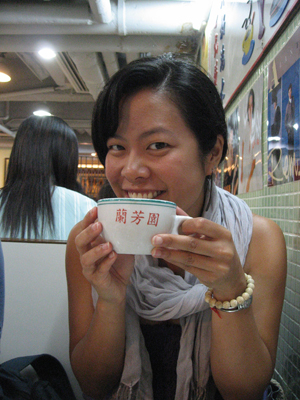 Jacquelyn Chi, SIS/MA '11, took a winding road to her job at the Culinary Institute of America, where she is manager of strategic initiatives. But once she arrived, the destination seemed tailor-made.
The job combines her love of food, her interest in sustainability issues and her international communication studies at the School of International Service. There was another plus - the institute is located in California, the state she considers home and one of the pulse points for the U.S. food movement.
"There came a moment when I knew I wanted to be involved in the food world, but I wasn't exactly sure how to turn what I studied into a real job," Chi explained. "How food communicates culture - what job does that translate to?
"I knew there must be something out there for me, but I didn't know what it was called. Now I know. This is the job," she said.
After earning an undergraduate degree in radio/television/film from Northwestern University, Chi worked coordinating volunteers at two film festivals. That was followed by a job with TV.com. But there was a part of her background that wasn't being addressed: Chi had lived in Hong Kong when she was young and traveled extensively.
"One day I realized I was tired of my job and I wanted new opportunities," she said. "I had a lot of personal international experience, but not a lot of professional international experience. It wasn't on my resume."
"I realized that AU underscored my interests in international exchange and international culture," she added.
At SIS she explored how "food communicates culture" and the role of food policy in development. She also became involved with a Turkish coffee project that borrowed from the popularity of food trucks. SIS doctoral candidate and adjunct instructor Hasan Efe Sevin and a young Turkish woman seeking to foster international interaction co-founded the initiative.
"They handed out free Turkish coffee. It wasn't a commercial venture, it wasn't about making money, it was just about opening dialogue," said Chi, whose assignment involved photographing and videotaping some of the encounters.
The campaign traveled along the East Coast, bringing coffee to college campuses.
Today, Chi's job at the Culinary Institute puts her in contact with discussions on the evolution of cuisines around the world and how food, culture and nationality are intertwined. She works on the institute's conferences, including "Worlds of Flavor," which each November serves as a professional forum on world cuisines and flavors. This year, she'll work on a conference focused on Millennial Generation food tastes.
Chi also is involved in initiatives around healthy menus, sustainability and the institute's thought leadership programs.
For someone who loves being involved with food, there is one irony with the new job. "I cook far less," Chi admitted. "That's because we get to eat what the students produce."
---
Private and Public Sector Programs Assist with SIS Tuition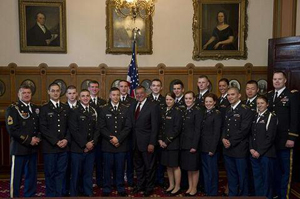 Sam Stowers, SIS/MA '13 (third from left) and the 2013 Commissioning Class with Secretary of Defense Leon Panetta.
Graduate school is an expensive proposition. However, SIS students are finding alternative funding.
Sebastian Insfran Moreno, SIS/MA '13, is one of many SIS students who receives employer funding. In his case, the Central Bank of Paraguay and the Organization of American States are contributing to Moreno's SIS tuition and living expenses.
Although he was interested in graduate school, "Knowing that my employer might encourage my desire was a great motivation to start the whole process of applying to graduate schools and looking for scholarships," said Moreno.
Like many of these employer-sponsored programs, there is a catch - Moreno is required to return to Paraguay after completing his master's degree and work with his employer for another six years.
"I've come across more international students than domestic students who have that benefit," said John Charles of AU's Career Center. "It's typically going to be private-sector employers, as well."
But some public-sector programs have subsidized graduate student tuition for years.
The U.S. Department of the Treasury partially funded SIS Professor Emeritus Stephen Cohen's graduate courses in the 1960s.
"The SIS doctorate that I eventually received qualified me several years later to join the SIS faculty," Cohen said. "I was the first full-time instructor in international economic policy."
Other governmental programs contribute to tuition and include perks. Students awarded the Charles B. Rangel International Affairs Graduate Fellowship or the Thomas R. Pickering Graduate Foreign Affairs Fellowship are awarded financial support for their graduate program and a position in the U.S. Foreign Service upon completion of their degree.
The U.S. Army has been funding education since the creation of the GI Bill in 1944, and Sam Stowers, SIS/MA '13, has benefited.
"The Army gave me a full scholarship and a meaningful job that will leverage my degree. They have encouraged me intellectually and professionally," said Stowers.
SIS is even piloting a new program to provide matching funds for incoming students who receive educational benefits from their current employer. Director of Graduate Enrollment Management Amanda Taylor is excited about this opportunity.
"This employer matching program promises to help provide financial support to many of our incoming students who are poised to contribute valuable perspectives to our classrooms and community based on their current work in the field," said Taylor.
Both the students and the sponsoring organizations profit from these arrangements.
"Since joining the Army, I've served as a Military Fellow and on various D.C.-area inter-agency task forces to further my career, and these opportunities would not be possible without a military background and the support of AU's ROTC Battalion," Stowers said. "The Army needs graduate students. They get excellent thinkers and leaders who have initiative and are already dynamic people."
To learn more about SIS's matching funds program, contact Amanda Taylor.
---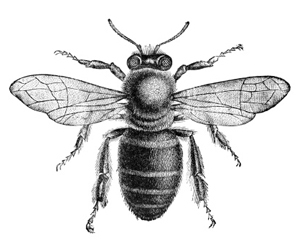 Professor Eve Bratman and the AU Beekeeping Society were profiled in a short documentary, "Beeing Green," made by students in the School of Communication's Film & Video II class in fall 2012.
---
Visiting Scholar Revisits D.C.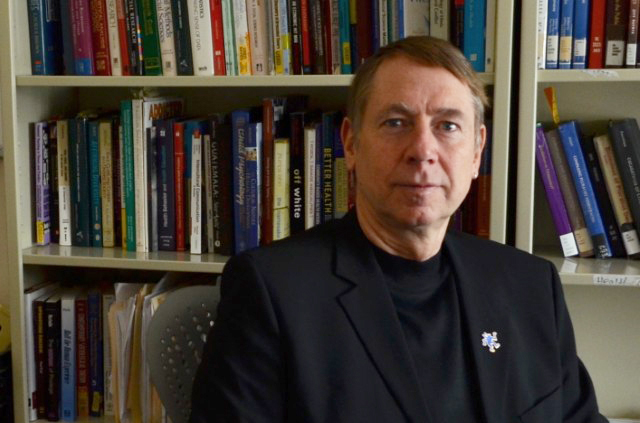 Professor Michael Minkenberg arrived in D.C. just in time for Barack Obama's second inauguration. For a political science scholar, it was perfect timing. He went to hotel bars and engaged with people from all over the U.S. to get a sense of how they felt about the reelection.
He is visiting SIS as a professor of political science at European University Viadrina in Frankfurt to build on his research about the role of religion in Western democracies.
"As a political scientist, Washington is one of the most fascinating places to be in the U.S.," said Minkenberg.
He has known the District since the 1980s, when he interned on Capitol Hill and pursued a master's degree in American Government from Georgetown University. American University, however, was the first campus Minkenberg ever visited in the U.S. He came to AU for a Fulbright Scholars' orientation that SIS Professor Gary Weaver organized in 1983.
"I have known Weaver longer than any other professor in the U.S.," he said.
Minkenberg is an accomplished scholar both in the U.S. and in his home country of Germany. For more than twenty years, he has traveled back and forth between both countries. In 1989, he obtained a Ph.D. in Political Science from the University of Heidelberg. Years later, he held the Max Weber Chair for German and European Studies at New York University, and taught at Cornell.
He is back in DC until spring to work on his newest project. He will explore the boundaries between religion and the state, the differences that exist between countries, and how the changing "religious map" plays into the process.
"How is the boundary made? Muslims in the West are always a minority. They are newcomers in most countries, so do they participate in the drawing of the boundaries?" asked Minkenberg.
When he is not trying to answer such questions, he likes visiting the city's museums and dining with friends and colleagues. He also likes drinking beer, and was pleasantly surprised by new offers in local businesses.
"Coming from Germany, it's not so surprising that I like beer a lot," he said. "When I came in the 80s, the beer was terrible - now it's much more drinkable."
In addition to his studies on religion and politics, Minkenberg is interested in power and architecture, especially how one shapes the other. He is preparing a book on this topic, and sees D.C. as a good example of how a nation can imagine its capital from zero. He is also an expert on the radical right, immigration and nationalism.
Before returning to Germany, Minkenberg will give lectures on these topics at AU, Georgetown University and the University of California, Berkeley.
---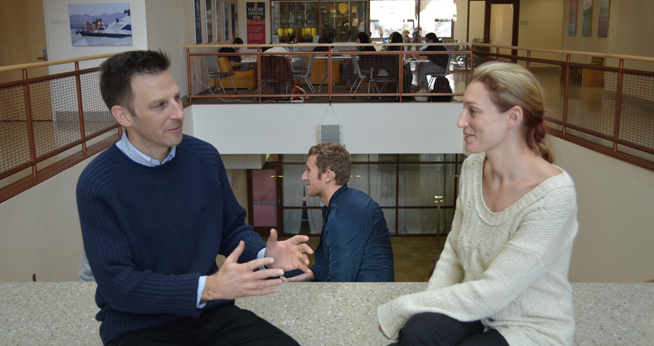 Professor Carl LeVan discusses the crisis in Mali with Mollie Davis, SIS/MA '03, from the U.S. State Department's Bureau of Labor and Human Rights during a visit to campus.
---
The Journal of International Service, in collaboration with the SIS Graduate Student Council, is currently seeking SIS alumni submissions for the March 26 spring symposium. The conference will feature graduate students, faculty members and field experts in the D.C. area and will be a great opportunity to connect with the SIS community, share your latest research and enjoy presentations. The symposium will be accepting papers of various length and topic, so please feel encouraged to submit papers, presentations and research to americanujis@gmail.com with the subject ATTN: SYMPOSIUM SUBMISSION. Deadline for submission is Feb. 25, so apply early. Kindly forward any inquires to americanujis@gmail.com.
Monday, Feb. 27, from 5 p.m. - 7 p.m., alumni are invited to join Dean James Goldgeier for dinner at Max's Wine Dive in Austin, Tex. Dean Goldgeier will provide updates on the school and the university. Meet other SIS Austin alumni, network and enjoy the ambiance of Max's Wine Dive's private wine lounge. Generous hors d'oeuvres, dinner, beer and wine will be served. There is a $10 charge to attend. Please RSVP to http://bit.ly/VvwYGy by Sunday, Feb. 24.
Class Notes
We invite readers to send comments to SISComm@american.edu. Please include your graduation year and degree.
Alan Cohen, SIS/MA '86, has been named to the Board of Directors at Scale Computing.
Patrick Quirk, SIS/MA '06, co-authored USAID's January 2013 report, "Best Practices in Electoral Security: A Guide for Democracy and Governance Programming." Quirk is a member of Creative Associates International's Conflict Management and Mitigation Team. Kyle Taylor, SIS/BA '06, has been hired by the Southwark Liberal Democrats (London) as the campaign manager for the 2015 re-election campaign of Member of Parliament Simon Hughes.
Kelly Witkowski, SIS/MA '08, writes, "After having a wonderful experience last year in Sierra Leone, working for the Royal Society for the Protection of Birds, I have secured a new position here in DC. As of last week, I am working with the Inter-American Institute for Cooperation on Agriculture as their Agriculture and Climate Change Officer. I will be providing technical support for IICA's climate change adaptation, mitigation and natural resource management work in Latin America and the Caribbean, building partnerships, developing and supporting new projects, mobilizing resources and helping to raise IICA's visibility in the US."
Clayton Massa, SIS/BA/MA '09, '10, completed the Presidential Management Fellows Program and has been assigned to be a Middle East country director for Air Force International Affairs.
Carlos Muñoz, SIS/BA '10, was named "Employee of the Year" at Creative Associates International (Bethesda, Md.), a USAID development contractor with offices in 15 countries.
---
Getting to Know You - Ubah Aden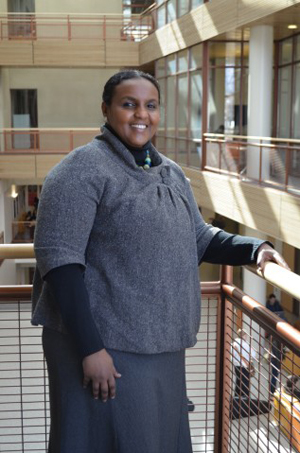 Title: SIS Undergraduate Academic Advisor
Job Duties: I advise undergraduate students with regard to their SIS undergraduate program and work with them to draft their academic - and study abroad - plans. I also provide students with the necessary information to help them make informed academic decisions.
Tenure at SIS: Since Dec. 1, 2008. Four amazing years.
The best part of working at SIS: I love my students and colleagues - they are awesome to work with. I learn from them every day and I enjoy helping my students with their academic endeavors.
First job: A hairdresser's assistant. I was looking for a summer job in high school and did not know anything about searching for a job. I literally went door-to-door among local businesses looking for a job. I challenged myself that summer to market my skills to business owners. I will never forget - I went in to a hair salon and asked for the owner, who came out to meet with me. I mentioned to her that I needed a job, she asked me a few interview questions and to my surprise she hired me on the spot. I worked with her and her team of hairdressers that summer. I truly enjoyed my first job and was grateful for the opportunity.
Hobbies: I like training for 5Ks; I just completed one with AU's Jacobs Fitness Center this fall. I would like to train for a half marathon in the near future.
I'm reading: Isabel Allende's Daughter of Fortune. It's a great novel; I am enjoying reading it!
Favorite book and movie: I love Frank McCourt's Angela's Ashes. What I like about McCourt's memoir is that he writes the story of his difficult and heart-breaking childhood with a sense of humor. As for movies, I am a fan of James Bond movies and I just saw the latest one, "Skyfall" - a must see!
Favorite D.C. hangout: Adams Morgan and Georgetown are my favorite hangout areas in D.C. They have great cafes, movie theaters and restaurants. I love to get out here during the weekend!
Favorite dish: I love all sorts of cuisines. My top favorites are Somalian, Middle Eastern and Asian.
Last vacation: Hyderabad, India. An amazing city located at the crossroads of north and south India. A highly populated, growing metropolitan city, Hyderabad is experiencing rapid development due to more and more technology, retail, fashion, pharmaceutical and biotechnology industries setting up shop there. The city is highly commercialized, but it also offers great restaurants, waterfront parks, shopping malls and historical sites to explore.
---

Dean James Goldgeier: Opinion piece, "The Rebalancing to Asia: The Role of Student Exchanges," The Huffington Post, Feb. 4.
Professor Gordon Adams: Opinion Piece, "Why Didn't the Senators Ask Hagel the Question that Matters?," Foreign Policy, Feb. 1.
Professor Robert Pastor: Opinion piece, "The Biometric Solution(s)," The Los Angeles Times, Jan. 29.
Professor Jordan Tama: Opinion piece, "Congress is Already Post-Partisan" (with Joshua W. Busby, Jonathan Monten and William Inboden), Foreign Affairs, Jan. 28.
Professor Asiya Daud: Interviewed on CCTV (China) regarding the two-year anniversary of the Tahrir Square uprising, Jan. 26.
Professor Benjamin Jensen: Interviewed on Fox News regarding the Benghazi strikes, Jan. 22.

Professor Clarence Lusane: Interviewed on C-SPAN regarding the 2013 Presidential Inauguration, Jan. 21.
Professor Celeste Wallander: Interviewed in "Denis McDonough, Loyal and Trusted Aide, to be Obama's Chief of Staff," The Washington Post, Jan. 17.
Professor Motoo Unno: Opinion piece, "Door-to-Door Visits the Starting Point of American Democracy," The Asahi Shimbun (Japan), Jan. 12.
To see more SIS media appearances, please visit our SIS in the Media page.
---
Professor Eric Novotny's article, "Social Media under Duress: State Responses to Political Expression and Social Mobilization in Repressive Regimes," will be published in the February 2013 special issue on social media of The St. Antony's International Review (University of Oxford).
Professor Ken Conca published "Decoupling Water and Violent Conflict," in the fall 2012 installment of Issues in Science and Technology. His article "The Rise of the Regional in Global Environmental Politics" appeared in Global Environmental Politics in Aug. 2012.
Distinguished Economist-in-Residence Arturo Porzecanski spoke at the Hudson Institute's event "Crisis in Argentina: Implications for International Policymakers" on Jan. 23.
Professor Sarah Cleeland Knight published "Globalization and Compensation in Hard Times: The U.S. Trade Adjustment Assistance Program and the Great Recession," in Democracy and Society, Fall 2012. Her article "Bretton Woods and Monetary Regimes" was published in Handbook of Key Global Financial Markets, Institutions, and Infrastructure, volume 1 (Gerard Caprio, ed.), Jan. 2013.
Professor Carl LeVan's analysis of the strategic implications of the recent U.S. Status of Forces Agreement with Niger was published by IDEAS at the London School of Economics. IDEAS was just rated one of the world's most influential think tanks in international affairs.
Professor Matthew Taylor presented his opinion of the legacy of the corruption trial that has mesmerized Brazil at the Woodrow Wilson Center on Nov. 20.
Distinguished Diplomat-in-Residence Anthony Quainton was the keynote speaker at the biennial meeting of the Canadian Association of Independent School Advancement Professionals in Victoria, British Columbia. His topic was "Independent Schools: the Source of Creative Energy in a Changing Canada."
Professor Loubna Skalli-Hanna spoke Feb. 8 at a U.S. Department of State symposium, "The Shifting Dynamics of Power in North Africa and the Middle East." Her presentation was entitled "Youth in North Africa: Rise of New Social and Political Actors."
Professor Kyoung-Ah Nam contributed a DAE (Describe, Analyze, Evaluate) exercise (with J. Condon) in Building Cultural Competence: Innovative Activities and Models (Kate Berardo, Darla K. Deardorff and Fons Trompenaars, eds.; Stylus Publishing, 2012).
Professor Hillary Mann Leverett's Jan. 31 column for Reuters, "The U.S. Needs a Completely Different Approach to Iran" (with Flynt Leverett), was named by The Atlantic Wire as one of the top five columns on Friday, Feb. 1.
Professor Julie Mertus recently contributed two book chapters to scholarly publications. "Human Rights and Religion in the Balkans" appeared in Religion, Rights and Secular Society (Peter Cumper and Tom Lewis, eds.; Edward Elgar Books, 2012), and "Women and Peace Processes" (co-written with Malathi de Alwis and Professor Tazreena Sajjad) was published in Women & Wars (Carol Cohn, editor; Polity Press, 2012).
Professor Emeritus John Richardson was named "Member of the Year" of The Balaton Group, a global network of scholar-practitioners concerned with sustainable development.
University Chaplain and SIS Professor Rev. Joe Eldridge was sworn in as a member of the U.S. Institute of Peace Board of Directors on Jan. 22. Eldridge was nominated by the White House in September 2012, and his nomination was confirmed by the Senate on Jan. 1.
Professor Clarence Lusane delivered a lecture at AU's 2013 Martin Luther King, Jr. Day of Service Jan. 19. His presentation, "The Arc of Justice from King to Obama," explored the links between the two men. "King challenged the nation to confront legal segregation and to be inclusive," Lusane said. "Obama challenged the nation to rethink our ideas about leadership... and the racial issues that still exist."
Professor Judith Shapiro's most recent book, China's Environmental Challenges, was reviewed in China Quarterly (December 2012). The reviewer, Professor Richard Louis Edmonds of the University of Chicago, wrote that "this book should be considered as a valuable source to cover the environment in Chinese politics courses and as an up-to-date text for the political sections of anthropology and geography courses that cover Chinese environmental problems."
---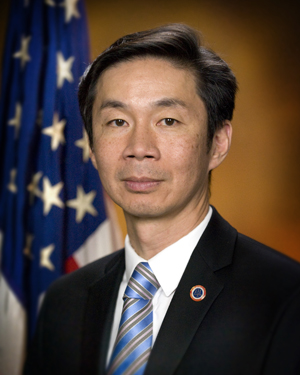 Grande Lum, the U.S. Justice Department's new director of the Community Relations Service, will speak in the SIS Abramson Family Founders Room Wednesday, Feb. 13 at noon. Sponsored by the International Peace and Conflict Resolution Program and SIS, the event is free open to the public.
Ward Wilson, senior fellow at the Center for Nonproliferation Studies at the Monterey Institute of International Studies, will visit SIS Thursday, Feb. 14 from 3:30 p.m. - 5 p.m. in SIS Room 300. The talk, entitled "Five Myths About Nuclear Weapons: A Pragmatic Re-Appraisal," is free and open to the public.
George Washington University Professor Stephen B. Kaplan, author of Globalization and Austerity Politics in Latin America, will discuss his book Wednesday, Feb. 27 at 11 a.m. in the SIS Abramson Family Founders Room. The event is free and open to the public.
SIS will host the DC Environmental Film Festival Monday, March 18 at 7 p.m. in the SIS Abramson Family Founders Room. The event will be introduced by SIS Professor Ken Conca, and the film, "Shark Loves the Amazon," will be followed by a Q&A with Mark London (writer, producer), Cidney Hue (co-director, co-editor) and Adrian Vasquez de Velasco (co-director, co-editor). The event is free and open to the public.
Professor Ron Krebs of the University of Minnesota will present "Military Conflict and the Politics of Narrative: The Rise and Fall of the Cold War Consensus" on Tuesday, March 19 from 10:30 a.m. - noon in the SIS Abramson Family Founders Room. The event, which is free and open to the public, is sponsored by the International Politics program.
AU's Alumni Association, SIS, and the Library will host an event in March to celebrate the launch of AU's Peace Corps Community Archive, which will feature archive pieces AU has collected, on March 21, 2013. Register soon as space is limited.
American University will honor the late SIS Dean William Olson at a memorial service at the Kay Spiritual Life Center from 2:30 - 3:30 p.m. Wednesday, April 10. A reception will follow in the SIS Abramson Family Founders Room. Learn more about the service, which is free and open to the public, on the Alumni Association website.
Skills institutes will be occurring on select dates this spring led by practitioners from the Intercultural Management Institute. These weekend-long courses provide both practical intercultural communication skills and theoretical knowledge to professionals working in the international and intercultural spheres, aspiring intercultural trainers, as well as those with interest in training for overseas living. For more information on courses, fees and locations, or to register, visit: http://www.american.edu/sis/imi/institutes/institutes.cfm.